To meet the increasing demand for human resources for beauty industry, much spa address teaching at Hau Giang grow up. For many young people who do not have experience in choosing a reputable teaching address, this is an extremely difficult choice. Understand that, Miss Tram VietNam have compiled the quality vocational spa facility in Hau Giang down here. Please refer to offline.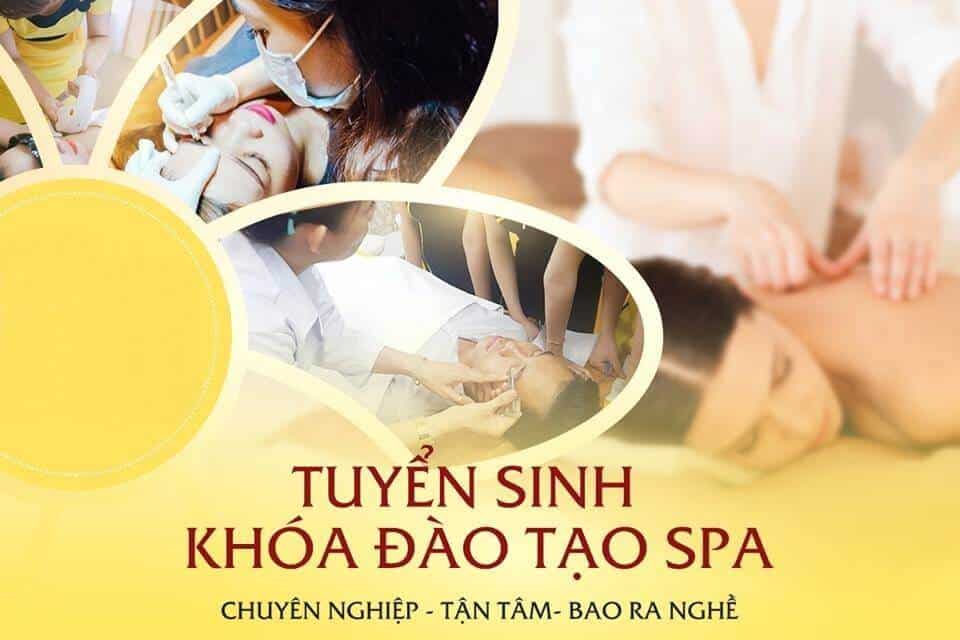 Spa Vocational Training in Skin Care, Cosmetic Tattooing In Hau Giang
1. Korean Hera Spa
Spa Hera Korea is a famous vocational spa in Hau Giang with modern and advanced Korean beauty technologies.
Address: PG01-15 Area VIincom House Vi Thanh, City. Vi Thanh, Hau Giang

Phone: 0916.677.699
2. Ha Anh Beauty Salon
Ha Anh Beauty Salon owns a system of modern facilities, the most advanced technology on the market, regularly updates to catch up with domestic and foreign beauty trends to popularize students.
Address: No. 4 Nguyen Thai Hoc, City. Vi Thanh, Hau Giang

Phone: 0983.274.990
3. Nguyen Phan Beauty Spa
This is one of the largest and most prestigious spa training addresses in Vi Thanh, famous for its most advanced and modern equipment system.
Address: Le Tan Quoc Street, Kv4, Ward 4, City. Vi Thanh, Hau Giang

Phone: 078.887.0878
4. Eva Spa
Eva Spa Famous as a quality and reputable spa teaching address because of its methodical curriculum, friendly learning environment and very affordable costs.
Address: 69 Hai Thuong Lan Ong KV1, City. Vi Thanh, Hau Giang

Phone: 0965.694.769
5. Diva . Beauty Salon
Diva . Beauty Institute Established in 2014, is the largest chain of cosmetology system in Vietnam with prestigious and good quality spa vocational training, trusted by many people in Hau Giang.
Address: PG3 – 03, Vincom Townhouse, 3/2 Street, Ward 5, Vi Thanh, Hau Giang

Phone: 0828.038.868
6. Lotus Beauty Spa
With good training quality, low tuition fees and friendly and enthusiastic instructors, Lotus Beauty Spa loved by many.
Address: 123 Doan Thi Diem, City. Vi Thanh, Hau Giang

Phone: 098.231.3626
7. Thuy Hang Spa
Thuy Hang Spa is a good spa vocational training address, always creating the best conditions for students to practice to improve their skills.
Address: 61 Nguyen Thai Hoc, Area 2, Ward 1, City. Vi Thanh, Hau Giang

Phone: 0932.878.444 - 0939.122.245
8. Kien Sanh Spa
Choose Kien San Spa To learn the profession, you will be trained by the teachers here to hold hands and train until you are proficient. Along with that is the equipment system invested according to the best technology on the market today.
Address: 57 – 59 Doan Thi Diem, City. Vi Thanh, Hau Giang

Phone: 0934 792 892

Apprenticeship Spa Currently, it is becoming a hot profession that many young people love and welcome. However, most young inexperienced students find it very difficult to choose the best and most suitable vocational training address. In order to do that Miss Tram VietNam Please suggest for the necessary notes to choose a reputable and quality address to "choose the face to send gold":
Ask clearly about the requirements - the required qualities of the profession.

Ask about money (tuition, incidental expenses).

Ideas to know about study time.

About the location (place of study – exam – award).

About the true value of the degree upon graduation.

What is the specific curriculum?

Any support after the course.

Must commit in writing.
To learn more about the above notes, you can read here: 8 Notes on Choosing a Beauty Profession & Experience Choosing a Beauty Training Place – Aesthetic Spa Is Right For You
Besides Miss Tram, I also want to introduce to you the very hot online cosmetic embroidery course with many outstanding advantages such as:
Flexible form of learning, just one device that can connect to the Internet such as a phone, Laptop, tablet, etc. to access the online learning site whenever you are free.

Each lesson is pre-rendered according to a specific video, complete the lesson and submit it before moving on to the next lesson.

Each student actively learns to complete his or her personal schedule.

There are exchange groups/groups to help students easily exchange and support each other in the learning process.

Learn Online but still firmly grasp the knowledge and skills, easy to apply in practice.

Cost savings.

The curriculum with more than 17 years of experience is compiled with the whole heart of Miss Tram's team, bringing QUALITY and EASY lessons.

Training quality is GUARANTEE, technical - flexible workmanship, proficient operation.
Not only that, when choosing online aesthetic embroidery spray course of Miss Tram VietNam Students are also granted a VIP account, have the right to study online all courses (skin care, cosmetic tattoo spray, makeup, nails, ...) of Miss Tram's internal is very great.
With this course, Miss Tram will bring you useful knowledge such as:
You will be started with "beginner" lessons, for those who do not know anything about Aesthetic Embroidery, it may be a bit "boring" but will be a solid foundation for you to build a beautiful house. there.

Group of lessons on Eyebrow - Eyelid - Lips are clear, going from basic to advanced.

Firmly on all kinds of numbing, ink brands, tools, ... on the market with beautiful standard color formula, handling cases where customers have done it damaged, not satisfied.

Know how to use safe anesthetics, choose the appropriate embroidery method and ink color suitable for each model.
Not stopping there, coming to Miss Tram's online cosmetic embroidery course, students also get:
Participating in the course will be in a closed zalo/facebook group, where you can easily send questions, share experiences and learn knowledge.

After completing the course submission, the Students will be reviewed directly at Miss Tram Academy from 4 to 10 days and make an application form prepared by the Center under the 1-on-1 support of the teaching staff. pellets.

Students who complete the Professional Eyebrow - Eyelid - Lip Embroidery Course will be granted a certificate recognized by the State for Lifetime nationwide.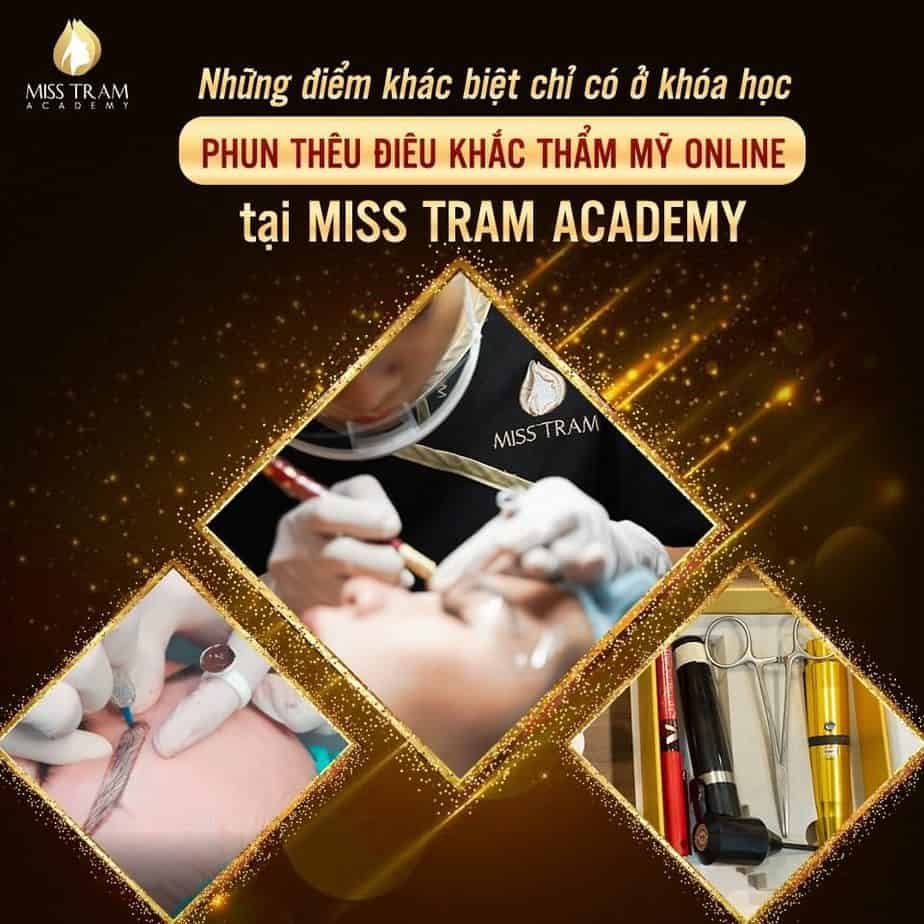 With an online course like the one above, sometimes the quality is better than the face-to-face classes of some other centers. So don't miss the opportunity to become a professional Aesthetic Sculptor Embroidery Specialist. For more information about the course see here: Aesthetic Sculpture Embroidery Course Online – Why Not?
After reading the above article, have you chosen a vocational spa address yet? Hope all the information that Miss Tram shared above will be useful to you. Don't forget to share the article and if you know any other vocational spa addresses in Hau Giang, please comment to share with everyone.