With the growing beauty market situation, the demand for high-quality human resources in the beauty care industry has also increased significantly. Therefore, the beauty industry is becoming one of the top choices of young people today. And in that, eyelash extensions is one of the careers that many young people are interested in - because this is a not difficult, easy-to-success field with little investment.
However, to become a professional eyelash extensionist, you need a license to practice – this is a minimum requirement when wanting to work in the beauty industry. So what do eyelash extensions practice certificates need? How to get a license to practice eyelash extensions? Let's find out more through the following article of Miss Tram Academy .
What is required for Eyelash Extensions License?
1. What is an eyelash extension practice certificate?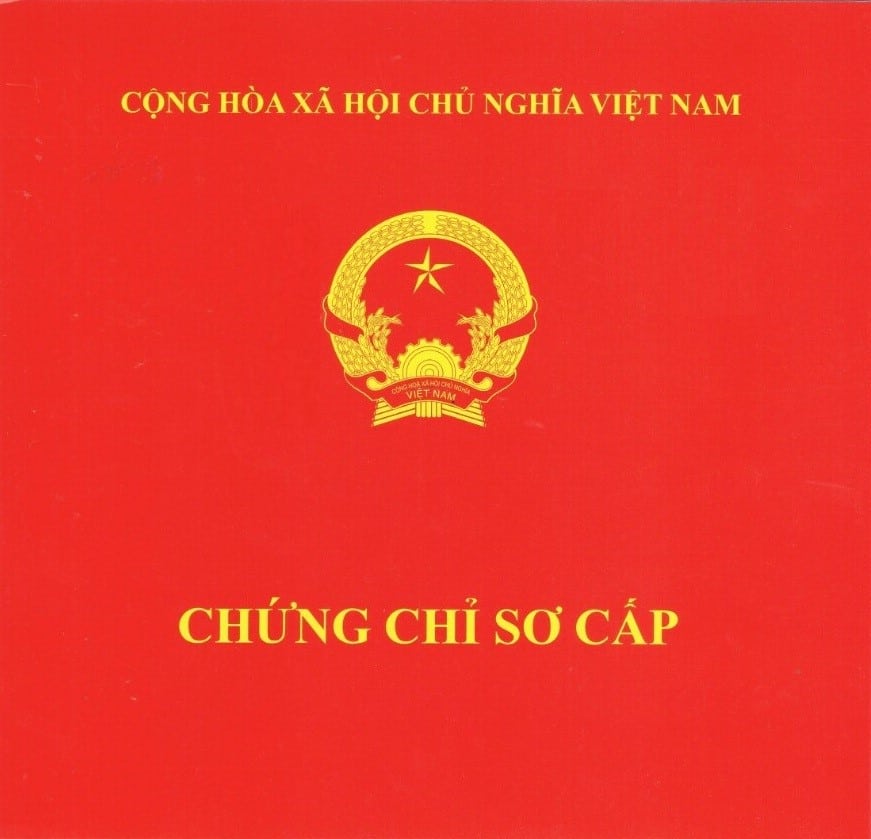 An eyelash extension practice certificate is a certificate that proves that the holder has been trained, ensuring that he has the necessary knowledge and skills to practice the eyelash extension profession.
An eyelash extension practice certificate is considered valid when the holder has fully attended the training period and completed the exam by a licensed training unit of the Ministry of Labour, Invalids and Social Affairs.
This certificate is valid for life and you can use it nationwide. When you have an eyelash extension practicing certificate in hand, you have the opportunity to work in reputable beauty salons and centers. Or you can apply to open your own business.
Footnotes to the story: Is it difficult to learn eyelash extensions?
2. How to get a license to practice eyelash extensions?
To get an eyelash extension practice certificate, you need to register for a training course at a qualified eyelash extension training unit. Because only units that have been licensed by the Ministry of Labor, Invalids and Social Affairs to operate in the field of training are allowed to teach and issue valid eyelash extensions practice certificates.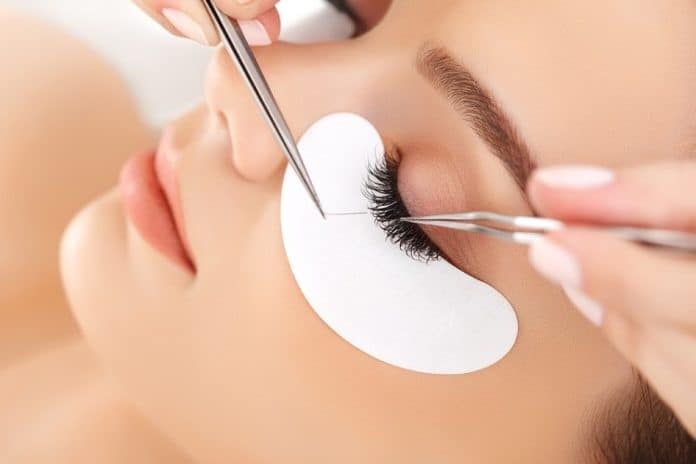 Therefore, before choosing a vocational training center, you need to research carefully, as well as consult many different sources of information to make the right choice. Avoid choosing a fraudulent, poor quality center.
At reputable training centers, you will not only be granted a practicing certificate but also be trained in the most complete and methodical skills and knowledge about eyelash extensions. So, after the course, you are completely confident that you can work and develop more deeply with this profession.
3. The benefits of attending eyelash extension courses at Miss Tram
Like many other professions, owning a practicing certificate is a necessary condition if you want to step into the eyelash extension profession, but in order to go far and be successful with this profession, it is the attitude and personal ability that are the most important. Determinants. Therefore, in order to equip yourself with the necessary knowledge and skills, you need to study at reputable vocational training centers.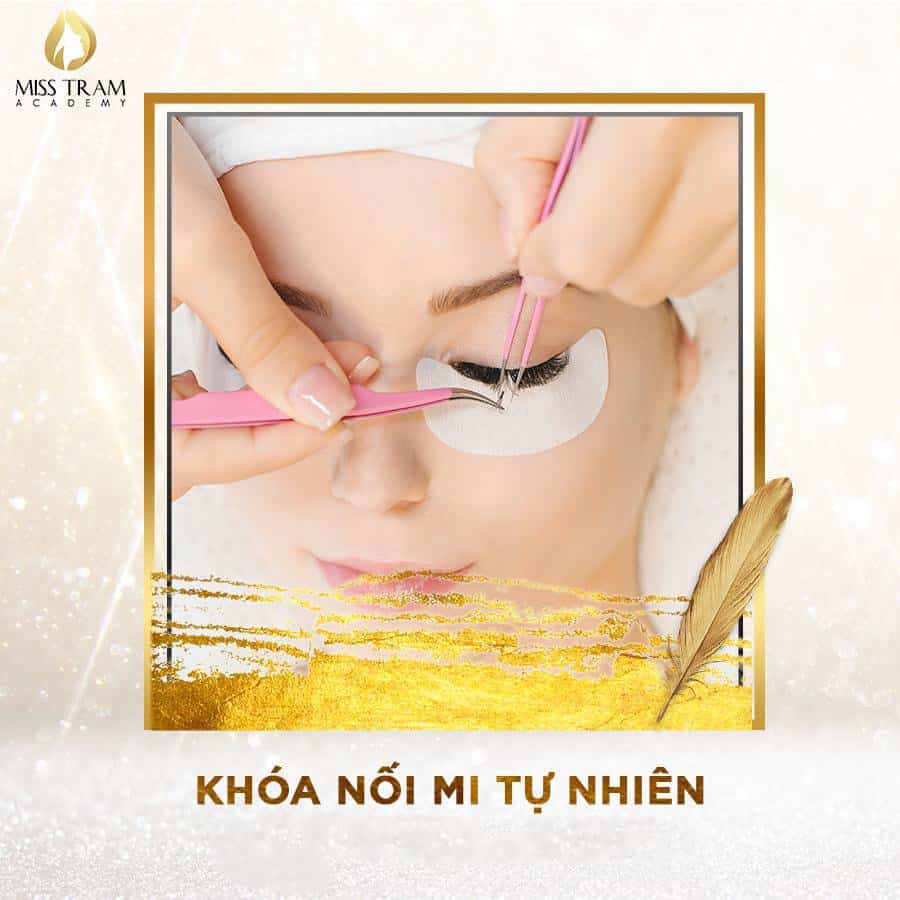 So, what factors should a reputable eyelash extension training center ensure?
As a prestigious training center, famous in the market today.

Taught by highly qualified, professional instructors.

There are clear and practical curriculum and learning routes.

Guided practice on real people.

Be sure to master your skills after completing the course.

Received diplomas and practice certificates under the supervision of the Ministry of Labour, Invalids and Social Affairs.
Footnotes to the story: Eyelash Extension School Supplies What You Need
Before deciding which center to study at, you need to carefully research the information of the center and the courses on the media such as website, facebook, forums or the experiences of those who have gone before. . Because besides the quality training centers recognized by the Ministry of Labour, Invalids and Social Affairs, there are still many fraudulent and poor quality centers.
4. Why choose Miss Tram Academy?
As a prestigious cosmetology training center with nearly 20 years of experience in the beauty industry, Miss Tram Academy has trained and inspired many different classes of students. Coming to eyelash extension courses, in addition to being trained in a professional, quality-assured environment and always accompanied by practice, students also receive incentives:
Methodical curriculum and learning route, always updated with the latest eyelash extensions techniques.

Trained in the form of "hands-on work" from basic to advanced professional.

Guided – with hands-on practice (free sample funding).

Received a full set of professional eyelash extensions from all kinds of eyelashes, glue, wax, tweezers, etc., used to learn and practice later.

The study time is flexible, can be arranged according to the time and learning capacity of each student.

Training in soft skills and customer crisis handling process when having problems in the profession.

In particular, in addition to the graduation exam to get a vocational certificate, according to the regulations of the Ministry of Labor, Invalids and Social Affairs, Miss Tram Academy also supports the granting of internationally valid practicing certificates for students who have desire to work abroad.
Footnotes to the story: Learn All You Need to Know About Eyelash Extensions
With outstanding advantages in terms of quality as well as prestige in teaching, Miss Tram is confident that she will always inspire passion and support you during and after the course in the best way.
Eyelash extensions are not difficult to study, have many opportunities to experience, easy to succeed with little investment in a short and flexible time. However, it is necessary to choose quality courses, reputable centers to be prepared to enter the profession in the most stable way. Hope this article has helped you answer your questions about eyelash extensions practice certificate. Miss Tram Academy Good luck on your chosen path!
See More Articles About News – Share Other Miss Tram Academy:
What's Needed for a Cosmetic Tattooing Practice Certificate?
Learn the Stages of Acne Treatment