Faced with the increasing demand for beauty, eyebrow tattooing and sculpting services are also increasingly popular and attract a lot of people to study.
Accessing new eyebrow sculpting tattooing technologies will help those who follow this profession (who are about to enter the profession and those who are working in the profession) can improve their skills - skills, build prestige and bring experience. Perfect for customers.
Every year in the world, there are many eyebrow beautifying technologies born, so what are the latest eyebrow tattoo sculpting technologies that are being applied? Your questions will be answered specifically in this article, please stay tuned!
Top Latest Eyebrow Sculpting Tattoo Methods Today
1. Eyebrow hairstroke
Hairstroke is a new technique in the cosmetic tattoo industry, the worker uses a special machine with a micro-needle to thread the fibers. This technique will give eyebrows with super realistic fibers with natural softness.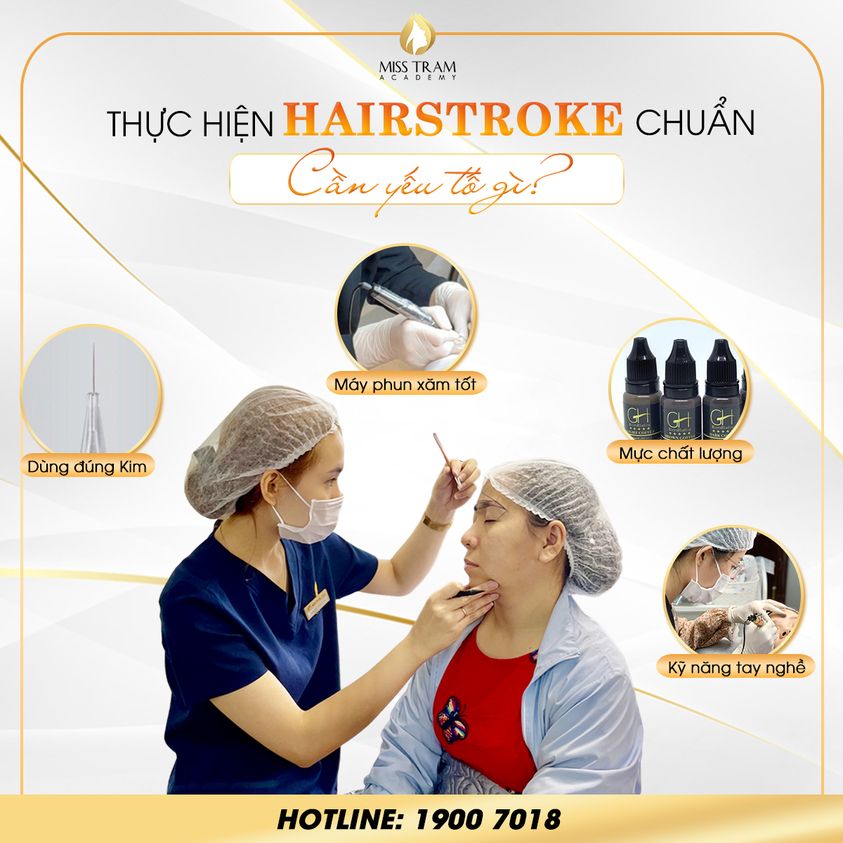 2. Eyebrow Sculpting (3D - 6D - 8D - 9D)
The eyebrow sculpting method uses a specialized sculpting pen to brush the fibers, creating natural and soft eyebrows like real eyebrows.
3D eyebrow sculpting: alternate methods of creating curvature to give the eyebrows depth and emphasis.

6D eyebrow sculpture: use a sculpting machine and do not shape the eyebrow frame before doing it.

8D eyebrow sculpting "evolved" from 6D sculpting, using a special knife with a micro-blade to engrave the eyebrows.

Sculpted eyebrows alternate with natural eyebrows to create softness.

9D eyebrow sculpting creates natural brows with sculpted brows that are the same color and size as real brows.
3. Sculpting eyebrows combined with spray shading
This method combines the advantages of two solutions of eyebrow sculpting and eyebrow shading to create realistic, beautiful eyebrows from shape to eyebrow. At this time, the eyebrows will be etched at the top and gradually sprayed towards the tail, the ratio of the sculpting area and the spray area depends on the condition of the eyebrows.
4. European eyebrow sculpture
This eyebrow sculpting method comes from Europe, creating the standard Phibrows eyebrow shape, drawn according to the Microblading ruler. To perform this technique, it requires a professional with hard skills and good aesthetics to avoid confusing Asian eyebrows.
5. Spray eyebrow touches nano particles
The nano-particle spraying technique uses a sprayer combined with a micro-needle to create a contact area of ​​only 0.01mm. The skin surface is gently affected, standardized according to the shape that has been shaped; Ink particles spread evenly on the skin for beautiful natural eyebrows.
6. Eyebrow ombre
Ombre eyebrow spray applies modern color spreading technique - creating dark and light effects, natural color transition shades for eyebrows. This method brings natural, soft eyebrows like real eyebrows.
7. Light touch beaded eyebrow spray
Spraying eyebrows with light touch particles impresses with eyebrows without surrounding borders, natural and true colors. This technique brings the micro needle (0.02mm) to the surface of the skin in a defined shape, the ink is micro-touched into particles and sprayed in many layers to create beautiful eyebrows.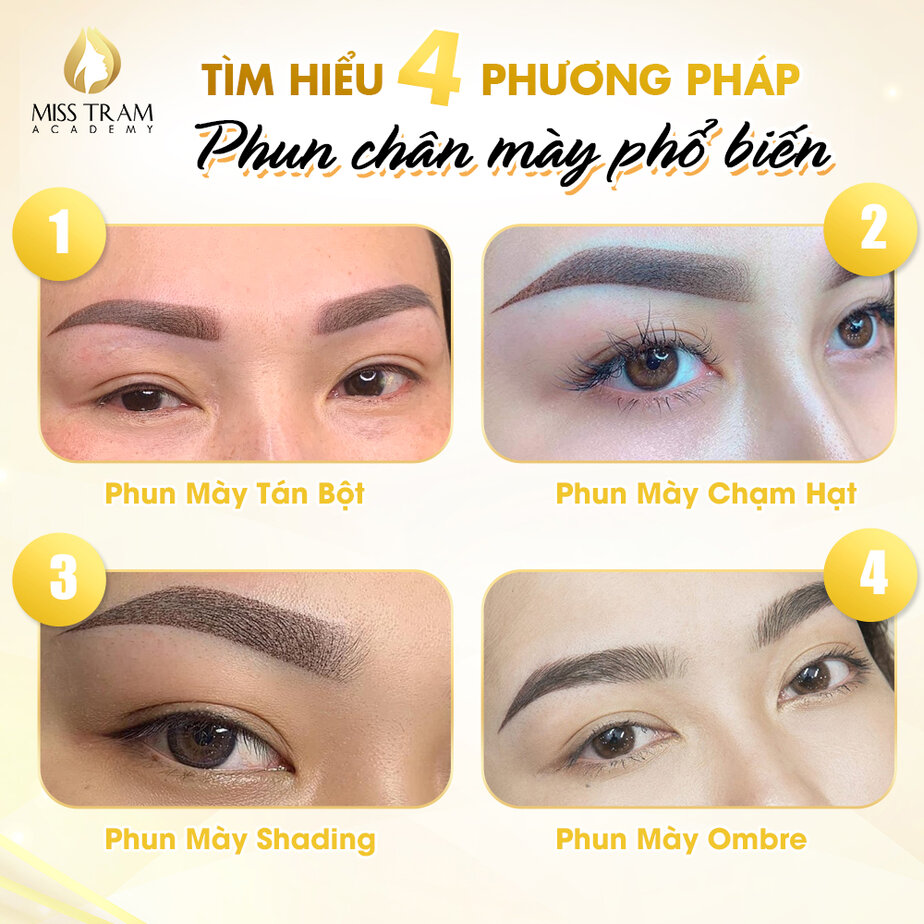 8. Silky eyebrow spray
Silk eyebrow spray is an ingenious combination of embroidery and powder coating techniques, providing sharp but still natural and soft eyebrows. Time to perform eyebrow spray coating silk quickly, color fastness maintains 3-5 years.
9. Spray embroidery powdered eyebrows
Powder eyebrow spray uses a specialized pen to spray powder on the skin, creating eyebrows with natural lines, colors that are in harmony with the customer's hair and skin. This method easily improves pale, sparsely grown eyebrows.
Where To Train The Latest Prestige Eyebrow Sculpting Tattooing Techniques?
Understanding the students' desire to access the latest knowledge and techniques of eyebrow sculpting - Miss Tram Academy offers a full package of cosmetic tattoo training courses and individual training courses on request.
Based on the needs and career background of students, Miss Tram Academy is committed to providing an appropriate training implementation direction.
Reasons to learn eyebrow tattooing and sculpting at Miss Tram Academy:
Scientific design training program - methodical - timely update new beauty trends.

Hand-held training is only 1:1.

Modern facilities, full practical learning tools.

Directly training are reputable experts and lecturers in the profession.

80% hands-on lessons, practice with both imitation leather and real samples.

Reasonable tuition fees, regular incentive programs.

There are clear output quality standards – students learn until they are proficient in the profession.

After completing the course, you will be granted a practicing certificate under the Department of Labor, Invalids and Social Affairs.
The article mentioned Top Eyebrow Sculpting Spray Method Newest Now for your reference. If interested Professional eyebrow tattooing course of Miss Tram Academy, please contact us for dedicated support.