Do you need to reapply after sculpting your eyebrows?? The question asked by many women, as well as brothers, when they want to beautify their eyebrows by sculpting, isn't it?
Do You Need Miles After Sculpting Your Eyebrows?
Eyebrow sculpting is considered the most advanced and appreciated cosmetic method of eyebrows today. With this method will give customers a natural and sharp eyebrows.
However, with every beauty method, it has its own color fastness time. So what about eyebrow sculpting? Do I need to reapply after doing this? And Miss Tram Academy Find out with the article below.
1. Features of the eyebrow sculpting method
Eyebrow sculpture is the most advanced cosmetic method to create eyebrow thread today. This is the method where the technician will use a specialized sculpting knife with a super-small, super-sharp blade to put ink into the skin, carving each eyebrow strand alternately with real eyebrows, creating a pair of eyebrows. eyebrows with a very high degree of realism.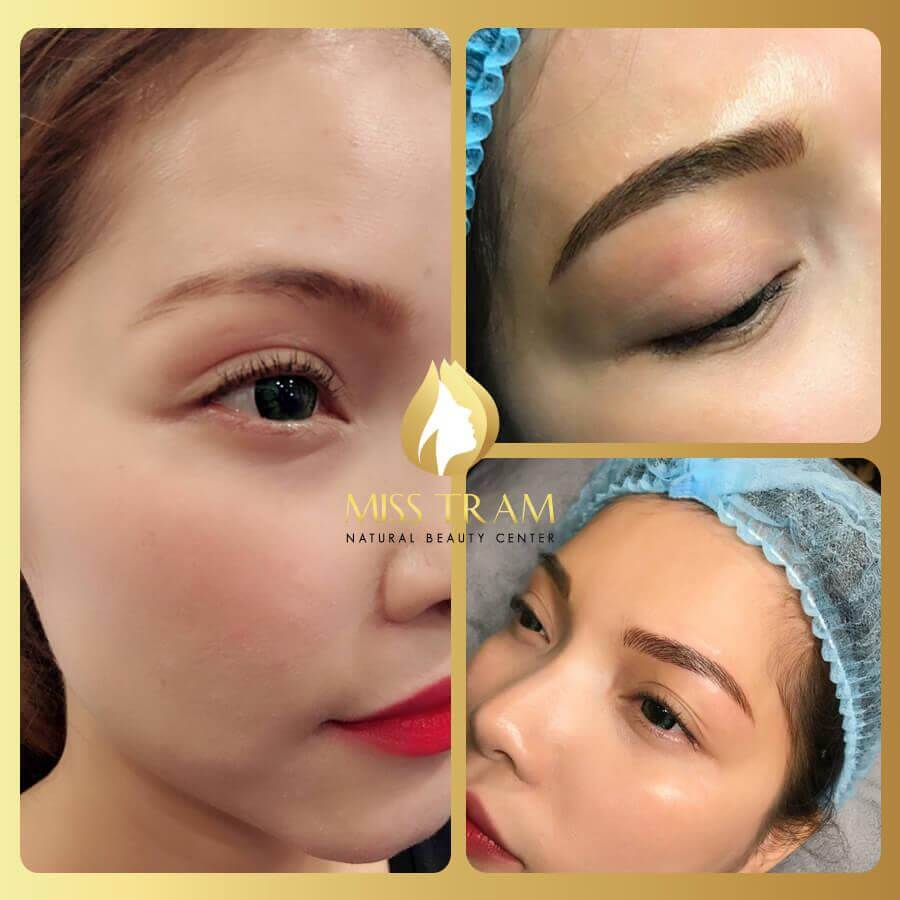 Does eyebrow sculpting need to be redone? And how many times do you repeat?
With this method, the technician will meticulously carve the eyebrows based on the color, shape, and natural growth direction of the real eyebrow hair. The eyebrows after implementation will be very difficult to detect, thereby helping to bring out the natural beauty that men can also perform to improve the shortcomings of the eyebrows.
+ The Secret to Choosing the Best Ink for Eyebrow Sculpting
By sculpting by hand, the technician will control the depth of each ink line, so it is not invasive, does not cause pain, swelling, bleeding, so it does not take much time for rest.
Does eyebrow sculpting need to be retouched and how long does it take to sculpt after sculpting?
The ink used for this method is often used inks derived from nature, has passed strict tests, does not contain iron oxide components as well as chemical components harmful to children's health people. Therefore, it will not turn green or red over time, but still retain the original color, does not cause irritation and is suitable for all skin types.
2. Do you need to reapply after sculpting your eyebrows?
Many of you wonder if after eyebrow sculpting, do you need to reapply or not? Miss Tram's answer is with Please. So why do you have to take this step, let's see the reasons below: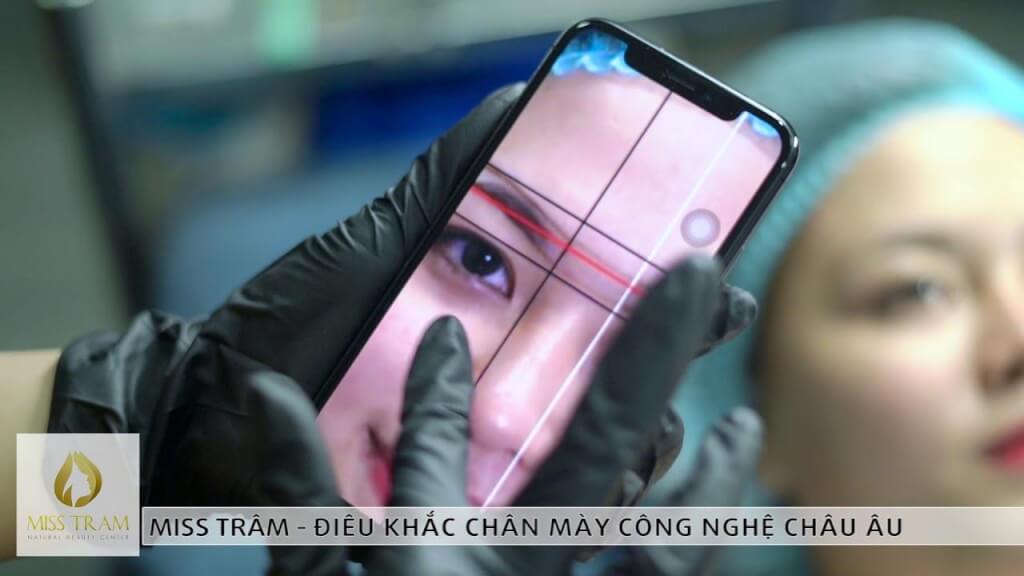 Does eyebrow sculpting need to be redone? Why yes, why not?
+ How to Handle Sculpted Eyebrows Not Coloring
+ The method of eyebrow sculpting is a specialized knife technique with a micro-blade that puts ink on the skin, carving each eyebrow thread alternately with real eyebrows. These eyebrows will not be able to keep 100% after the first time they come off, so the eyebrows at this time cannot be perfect.
After 1 month from the date of implementation will proceed to mile again, this time the eyebrows will be even, more beautiful. This is also the first answer to the problem because after eyebrow sculpting, do you need to reapply dặm
+ Why do you need to reapply after sculpting your eyebrows? Because Another influencing factor is the ink used. Usually the ink used for sculpture like Miss Tram currently using is an organic ink of natural origin that does not have the ability to stick to color as tough as inorganic ink containing iron oxide components.
Therefore, it is necessary to reapply from the 2nd time to get an even and beautiful color. Accordingly, the eyebrows will be very beautiful, shiny and at the same time not harmful to the health of the performer.
+ Besides, each person's body will affect the ability to stick to color. For dry skin, the skin will usually be able to stick to the color better. And those who own oily skin, combination skin will find it harder to stick to the color. Therefore, it is necessary to perform miles from 2 to 3 times to be beautiful.
+ In addition to the above objective factors, the technician's skill, implementation facilities and care before and after sculpting also affect the color adhesion after peeling.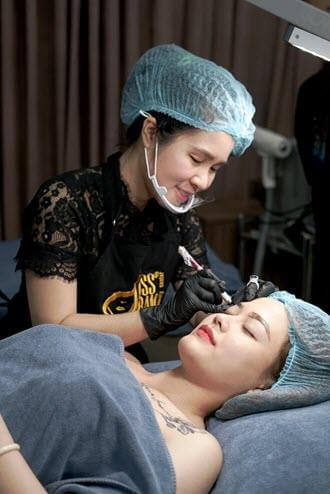 Does eyebrow sculpture need to be redone to make it more beautiful?
+ The Best Eyebrow Sculpting Process
Performing eyebrow retouching after sculpting is the step to help the following eyebrows are done most perfectly. Because there are customers who will not pay much attention to the eyebrow thread, but most customers want to spend money to have a beautiful eyebrow, the result must be really perfect.
However, after the first peeling, there are blurred, interrupted eyebrows, ... these same factors will also make you lose sleep.
3. Notes to help you get the perfect beautiful eyebrows
The reason after eyebrow sculpting needs to be retouched
+ Choose a reputable and quality implementation facility. Because this is a manual method, it requires the technician's technique to be stable to bring good results. If not, the "money lost" is very high.
+ Although eyebrow sculpting does not penetrate deep into the skin, it does not cause pain and swelling, so there is no need to abstain too much. However, there are precautions in eating and living that also help get the best results.
Whereby, Do not use stimulants such as beer, alcohol, tobacco, coffee.. after execution. Eating and drinking also need more attention. Do not have a strong impact on the eyebrows and limit swimming and bathing. In general, it is advisable to follow the care instructions of the specialist and the cosmetology center.
+ Sunscreen should be applied with an SPF of at least 30, with a good cover every time you go out to maintain a beautiful color.
+ How to Take Care of Your Eyebrows Correctly After Sculpting
With the sharing of Miss Tram Academy The above hope has helped you to answer your questions about your eyebrow sculpting problem. From then on, no longer worry if right after sculpting, your eyebrows are not really perfect.
For any more specific issues and advice on a case-by-case basis, after eyebrow sculpting, you can contact and make an appointment for more specific advice.
See More About News – Share By Miss Tram Academy About Spa Beauty, the A guide to cosmetic tattoo spray with eyebrows - eyebrows
How To Spray Lips Without Swelling
Can Hard Limbs Work in Spa Professions?