|Question – Answer| After Burning Freckles, How To Take Care Of Your Skin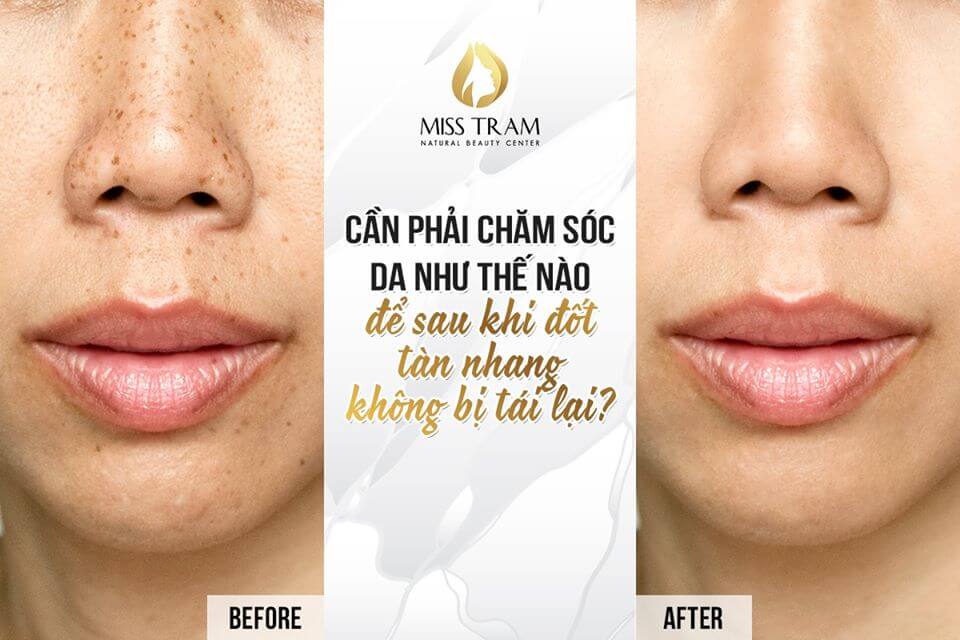 Getting rid of freckles can be considered a brilliant victory for women. However, it is not possible for us to allow ourselves to "sleep" on that victory.
It is important to take care of the skin after burning freckles to prevent them from returning EXTREMELY IMPORTANT and NEEDED. So, you must remember to immediately save the tips that Miss Tram suggests below:
Adjust your diet properly:
In order for the skin to recover quickly and be healthy and rosy, it is recommended to add vitamins D, Vitamin A, Vitamin C, Vitamin E, Vitamin K... to the daily menu, in which:
Vitamin C helps the skin avoid Oxidation and enhances collagen synthesis
Vitamin A will help clean up dead skin cells, reducing inflammation or redness.
Vitamin E is an important ingredient that helps protect the skin from ultraviolet rays of the sun, stimulates the formation of melanin pigment (In foods: broccoli, papaya, taro, mango, etc.) tomato…)
Avoid sun exposure:
UV rays stimulate melanin to form freckles. Therefore, limit sun exposure for the first 2-4 days.
If you must go out, cover up and apply sunscreen suitable for your skin.
Use skin regenerating cream according to the instructions:
The use of a cream with the function of restoring, regenerating and providing nutrients will help the damaged epidermis and skin cells recover more quickly.
Depending on your skin type and skin condition, experts will advise you on the most suitable products.
Let the skin scab naturally:
After about 5-7 days, the freckle treated skin will quickly scab and form young skin. This is the normal mechanism of action of the skin, so you should not be too worried or in a hurry to remove it by hand because it will easily cause the skin to become infected, difficult to recover faster and healthier.
Should not come into contact with water:
- If water comes into contact with the skin, it will make the skin regeneration and recovery process take longer, easy to be penetrated by bacteria causing skin ulcers. Therefore, in the first 2-4 days after laser treatment, you should not wash your face or let cold water come into contact with the skin that has just been treated.
- At this time, you can use warm, dilute salt water to clean your face by taking a soft towel or cotton pad soaked in salt water to gently wipe the skin. Until the freckle scab is completely peeled off, you can wash your face with water as usual.
In addition, in order to help women thoroughly remove ugly freckles, Miss Tram - Natural Beauty Center has updated the most modern laser freckle treatment technology. This method is absolutely safe and effective, we have been successfully applying it to thousands of domestic and foreign customers.
Don't hesitate, call HOTLINE 1900 7018 for advice on all your questions about the service.
Check out more skin care treatments available at Miss Tram:
Spirulina treatment helps whiten smooth, tighten pores.

Diamond Nano thread implant.

CO2 mask detoxifies the skin.

Skin rejuvenation with salmon DNA electrophoresis.

Brightening skin with Activated Carbon Laser.

Remove fat bags, wrinkles, slim face and body with Exilis technology.

Skin rejuvenation, wrinkle reduction, V-Line slimming with Hifu S + technology.

Regulate sebum, whiten, remove skin toxins by biological light technology.

Acne treatment with C02 Fractional Laser + Herbal Oriental Medicine exclusive package.

Tattoo removal with YAG laser technology.