The current beauty trend is becoming more and more popular and growing. So it's not too hard to understand when skin care profession , and Spray cosmetic tattooing increasingly asserting its position.
That's why choosing a training company for this profession becomes more difficult. Because not everywhere is a reputable and quality training address. So, to be able to help you solve this dilemma, the following article Miss Tram VietNam will introduce you to a list of training facility for skin care, cosmetic tattoo spray in An Giang. Consult with Miss Tram VietNam .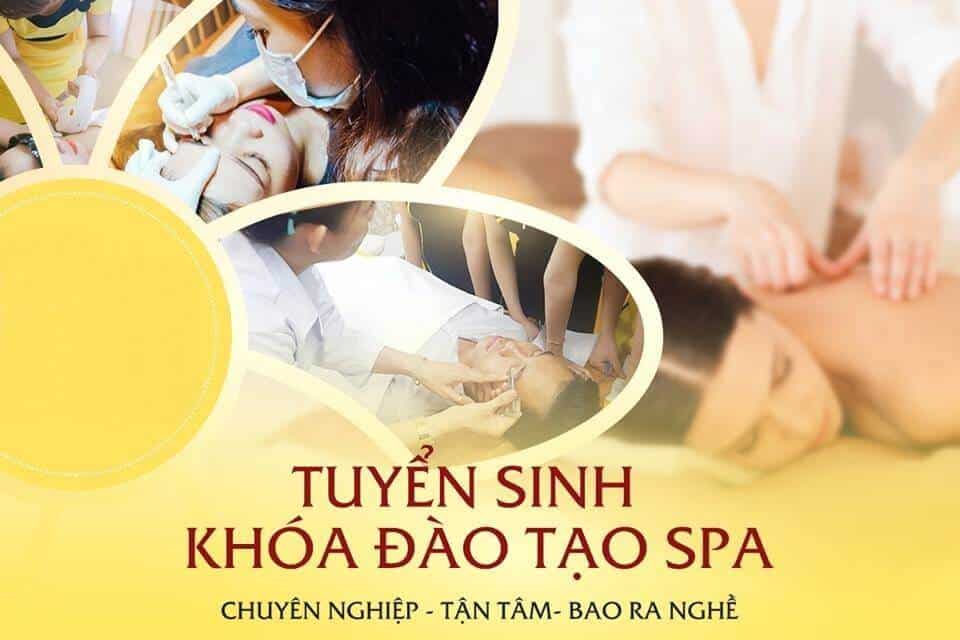 Training Facility for Skin Care, Cosmetic Tattooing in An Giang
1. Hong Dao Beauty Salon
Hong Dao Beauty Salon is the exclusive address for many high-class beauty technologies and methods with "1 - 0 - 2" in the world.
Address: 1609 Tran Hung Dao, My Phuoc Ward, City. Long Xuyen, An Giang

Phone: 029.6384.0114
2. Aura . International Beauty Salon
Aura is an international system of beauty salons with a team of highly qualified and skilled instructors, meeting national standards.
Address: 790 Ha Hoang Ho, Dong Xuyen Ward, City. Long Xuyen, An Giang

Phone: 0868.888.790
3. DIVA Aesthetic Institute
DIVA owns a large number of teachers with good skills, experience and extremely good professional qualifications.
Address: 787 Ha Hoang Ho, Dong Xuyen Ward, City. Long Xuyen, An Giang

Phone: 0888.698.968
4. Seoul Spa
Seoul Spa owns a team of top instructors with more than 15 years of professional experience. Along with that, the equipment is completely imported 100% from countries with modern technology such as Japan, USA, UK, Korea.
Address: 172 Tran Hung Dao, My Binh Ward, City. Long Xuyen, An Giang

Phone: 0938.453.123
5. Xuan Huong Spa
At Xuan Huong Spa, you will have access to a lot of advanced and modern techniques. Moreover, the dedicated instruction from theory to practice by a team of experienced and highly skilled instructors.
Address: 31 Street No. 2, Chau Phu B Ward, City. Chau Doc, An Giang

Phone: 0918.338.639
6. EVA Spa
EVA Spa owns a team of teachers with many years of experience, highly skilled and regularly updated with the most advanced and modern techniques.
Address: 274 Thu Khoa Nghia, Chau Phu A, Chau Doc, An Giang

Phone: 0961.682.982
7. Ngoc Huong Beauty Salon
Established in 2005, up to now Ngoc Huong has nearly 15 years of experience in the field of beauty, especially in the field of skin care training and cosmetic tattoo spray.
Address: 370 Tran Hung Dao, My Binh Ward, City. Long Xuyen, An Giang

Phone: (029) .6394.1866

Currently, there are many of you who have a great passion for the beauty industry in general and Cosmetic tattooing profession in particular. However, there are also many friends who, despite their passion, cannot come to the center to study directly because of circumstances or some objective reasons.
So, in order to help you continue on the path of your dreams, Miss Tram VietNam brought to you online cosmetic tattoo spray course. The quality of online classes is not only not inferior to offline classes, but also helps you to save maximum costs!
When choosing an online cosmetic tattoo spray course at Miss Tram, you will be sure of knowledge such as:
Comprehensive knowledge base from basic to advanced professional of a cosmetologist.

Firmly on all types of numbing, ink brands, tools, .. on the market with beautiful standard color formula, handling cases where customers have been damaged, not satisfied.

How to choose the method that color is suitable for each eyebrow shape, lip color, eyelid for customers.
On the other hand, you will not have to worry that online learning will not be answered all questions. With online cosmetic tattoo spray course at Miss Tram You can completely solve all your concerns and difficulties in the content by: accompanying you throughout the online course not only Master Dong Bao TramBesides, there are also a large number of lecturers with professional experience and pedagogical skills. Constantly practicing, accumulating professional knowledge and experience to be able to help you have a passion for the profession.
The online cosmetic tattoo spray course at Miss Tram is for such subjects as:
Those who have a passion for the beauty profession and more specifically, cosmetic tattooing of eyebrows - eyelids - lips.

Those who wish to be able to become an Embroidery Specialist in Aesthetic Sculpture.

Those who manage at Spas and have the desire to learn and learn more advanced knowledge about the profession to be more effective at work.

Those who want to open a small Spa to a professional Cosmetology Center which has beauty services for Eyebrow - Eyelid - Lips.

You are already a professional tattoo sprayer but have a lack of knowledge such as not being able to control how the hand strength is standard, not knowing the color mixing formula for each customer situation, etc.

Being disoriented with the self-study process at home through groups, youtube, facebook, ... and a lot of mixed information on the internet.

You are not eligible to participate in direct courses at the Academy of Cosmetology or Vocational Training Center.
Since the cosmetic tattooing course at Miss Tram was born, it has helped many young people who have a passion for the profession firmly on that path.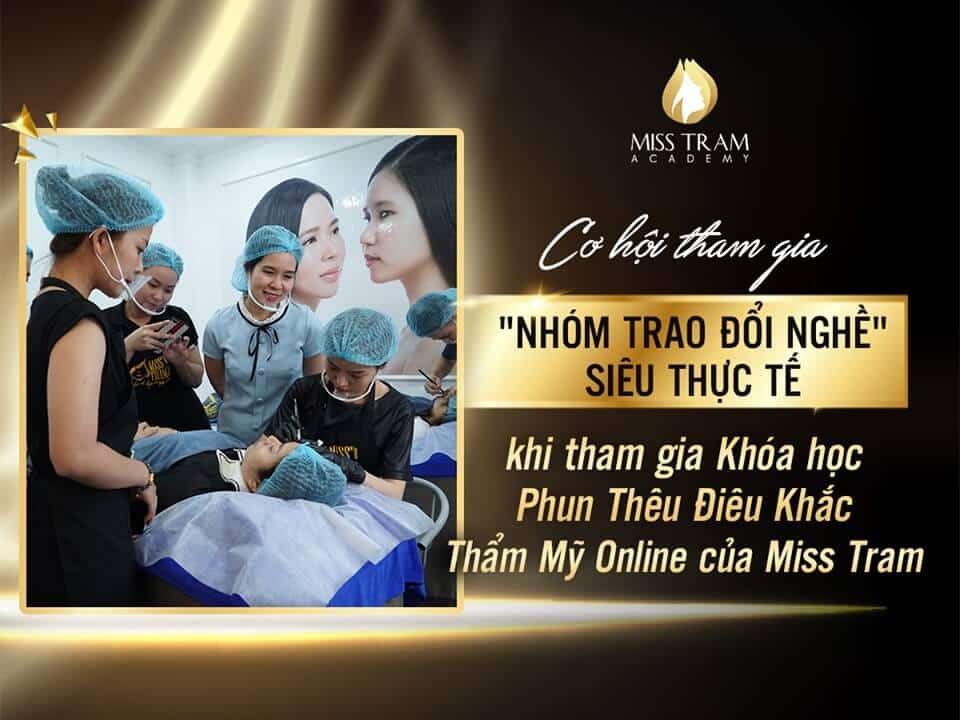 When you study any profession including spa, finding out and accessing information is very important and extremely necessary. In particular, for those of you who do not know anything, starting to learn, you should be wise in choosing a cosmetology training institution.
This choice is not too difficult, but it is not easy either. Because if you choose the wrong training address, is it "lost money"? So, before choosing Miss Tram, I advise you to consider carefully. If you still have questions and are not sure what factors should be based on to choose, you can refer to the following articles: Spa Apprenticeship Experience – How to Choose a Good Beauty Training Place in Vietnam?
Hopefully, the information that Miss Tram shared above will help you have a basis to choose for yourself the best quality training address. Thank you for following the article.