Do you have a passion for spa profession, beautify. Are you looking for an address? Vocational training in skin care and cosmetic tattooing in Quang Ngai. You do not know any reputable and quality training address.
Don't worry, the following list of beauty training institutions, especially skin care and cosmetic tattooing in Quang Ngai, introduced by Miss Tram below will certainly be useful information for you. Follow along with Miss Tram VietNam .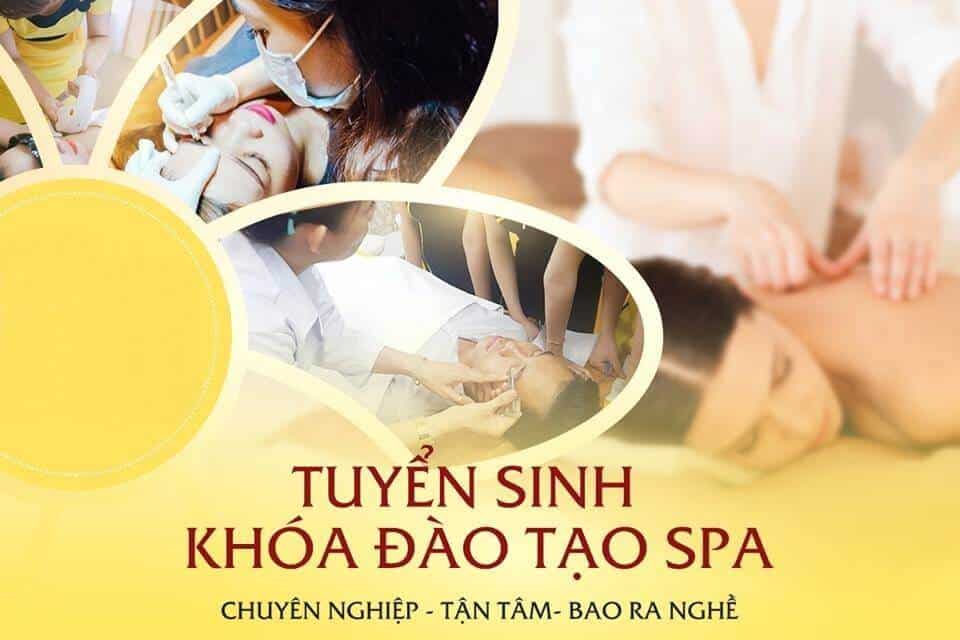 Spa Receive Training Trainee Skin Care, Cosmetic Tattooing In Quang Ngai
1. Seoul Spa
With many years of experience in the beauty industry, Seoul Spa is the leading prestigious spa address in Quang Ngai. Thanks to the good training quality, as well as the meticulously compiled curriculum and friendly learning environment.
Address: 227 Le Dinh Trung, Nguyen Nghiem, Quang Ngai

Phone: 0938.353.123
2. Emmy Beauty
Emmy Beauty is a beauty training address suitable for all subjects, because it has extremely cheap training costs.
Address: 88 Ba Trieu, Le Hong Phong, Quang Ngai

Phone: 0916.242.369
3. Alena Spa
Come to Alena Spa, you will have direct contact with advanced and modern machinery and equipment, along with international standard curriculum.
Address: Lot PG2, 26 Le Thanh Ton, Nghia Chanh Nam, Quang Ngai

Phone: 0911.544.244
4. Suly Spa
There is a good training environment, quality training techniques and a team of experienced teachers Suly Spa This is a trusted site for you.
Address: 62 Chu Van An, Nghia Lo, Quang Ngai

Phone: 0906.520.607
5. HB Spa
HB Spa is the "golden" address for you to put your trust. HB Spa always applies advanced and modern technologies from developed countries into the teaching process.
Address: 113 Phan Dinh Phung, Nguyen Nghiem, Quang Ngai

Phone: (025) .5393.9998
6. Cleopatra Spa
Cleopatra Spa is a name you should not ignore. With a team of highly qualified teachers with many years of professional experience, you will learn the best quality lessons here.
Address: 299 Nguyen Trai, Quang Phu, Quang Ngai

Phone: 0982.256.562
7. Ngoc Thuyen Spa
Ngoc Thuyen Spa is one of the training institutions chosen by many young people. Because this place not only owns modern equipment, but also has a team of teachers with many years of teaching experience.
Address: 51 Quang Trung, Le Hong Phong, Quang Ngai

Phone: 0972.598.970
8. Ngoc Beauty Spa
At Ngoc Beauty Spa You will be trained according to a scientific standard curriculum with professional teachers, with long experience and skills in the industry.
Address: 179 Nguyen Cong Phuong, Nghia Lo, Quang Ngai

Phone: 0962.781.516
9. Hanah Clinic & Spa
Highly skilled lecturers, methodical curriculum, modern equipment, friendly learning environment are the outstanding advantages of the courses at the university. Hanah Clinic & Spa.
Address: 80 Tran Te Xuong, Nghia Lo, Quang Ngai

Phone: 0948.468.468
10. Snow Beauty Spa & Clinic
Courses in Tuyet Beauty Spa & Clinic always innovate and apply the most advanced technology in the teaching process, in order to bring the best results for students.
Address: 320/10 Phan Dinh Phung, Quang Ngai

Phone: 0779.525.852
11. Spring Spa
Spring Spa You not only have access to many advanced and modern techniques. Besides, you can also study with the leading cosmetologists in Vietnam today.
Address: 542 Hai Ba Trung, Tran Phu, Quang Ngai

Phone: 0869.815.257
12. Quang Spa
Quang Spa brings you the leading professional training programs in cosmetology. Combined with that is the curriculum is compiled methodically and meticulously.
Address: 158 Vo Thi Sau, Chanh Lo, Quang Ngai

Phone: 0899.124.999
13. Chau Sa Spa
Chau Sa Spa owns a team of lecturers who are masters and doctors who have graduated from universities, trained at home and abroad. Inspiring, engaging and enthusiastic teaching style will help you understand and absorb faster.
Address: 46 Tran Hung Dao, Chanh Lo, Quang Ngai

Phone: 0936.177.333
14. Kay Spa
Kay Spa is one of the professional tattoo spray training centers in Quang Ngai. Each lesson is carefully invested from knowledge to skills to ensure the best output for students.
Address: 517 Quang Trung, Nghia Chanh Bac, Quang Ngai

Phone: 0901.321.577

To be able to choose a place to train cosmetic tattooing that is both reputable and quality, you need to find out information from many different sources, and learn it carefully. Because this is the first simple step, but it plays an important role in deciding your future success or failure. Soon Miss Tram would like to send it to you 8 experiences in choosing a quality vocational training location. If you really care then don't ignore it.
In addition, if you are a person with passion and want to pursue a career in cosmetic tattooing but have difficulty because of the geographical distance too far, the cost is not allowed, the time limit, etc. worry. By now Miss Tram VietNam brought to you Online cosmetic tattooing course. This course not only helps you achieve your dream at a low cost, but also gives you a huge treasure of knowledge.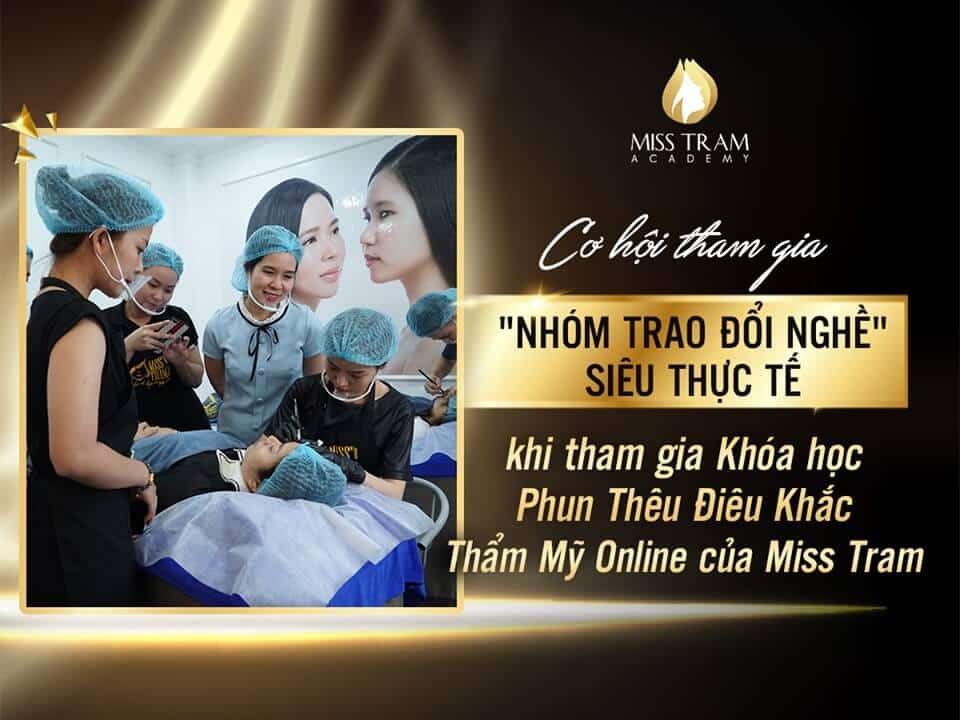 Moreover, when participating in Miss Tram's online cosmetic tattooing course, you also have the opportunity to join the super realistic "job exchange group". Because, Cosmetic tattooing course Miss Tram's is a community okay CONNECT as SHARE, EXCHANGE experience for all learners.
Students participating in the course will be able to join a closed zalo/facebook group. From there, you can easily send questions, share experiences and learn knowledge.

You won't have to be "alone with a phone", as you will be connected directly with the Academy Manager to have your own Personal Study Schedule at home.

Accompanying you throughout the course is not only Master Dong Bao Tram, but also a team of lecturers with professional experience and pedagogical skills. They constantly practice, accumulate knowledge and professional experience to be able to bring you the most useful knowledge.

You do not have to worry about losing, because the opportunity to connect, learning inspiration will be ignited through the spirit of online team learning.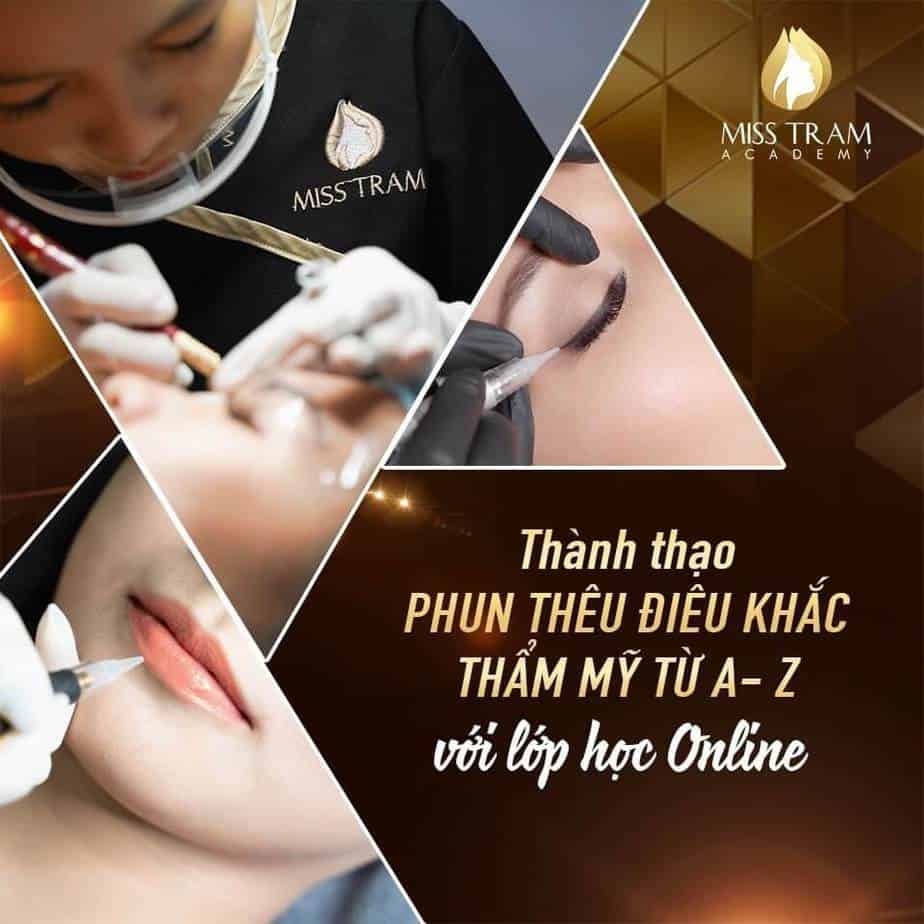 In particular, Miss Tram's online cosmetic tattooing course will bring you billions of dollars BENEFIT as precious as:
Master the comprehensive knowledge base from basic to advanced of a professional cosmetologist.

Firmly on all kinds of numbness, ink brands, tools, ... on the market with beautiful standard color formula, handling cases where customers have done it damaged or not satisfied.

Know what eyebrow shape, lip color. Which eyelid spray method is right for you in particular and your customers in general.

It is completely possible to become a professional Spray Embroidery Sculptor Aesthetic Eyebrow - Eyelid - Lips professional with a stable income.
So what are you waiting for without registering for this great course? If you have any questions about Miss Tram's online cosmetic tattooing course, please contact us for answers. Or you can refer to the information through ONLINE COSMETIC SPRAY COURSE current latest.
Above is a list of the most famous places for training in skin care and cosmetic tattooing in Quang Ngai. Miss Tram hopes that with the information Miss Tram shared above, you will choose the most suitable training location. Thanks for following the post.