When people's beauty needs are increasing, the demand for human resources for this industry also increases. Therefore, there are many on the market today spa vocational address grow up. But in order to stay in this profession, it is necessary to have the necessary knowledge and skills. This is also the reason many young people decide to invest, looking for quality training addresses and institutions to study.
With the article below Miss Tram VietNam I want to introduce to you the top teaching spa in Gia Lai to make it easier for you to choose a place to study.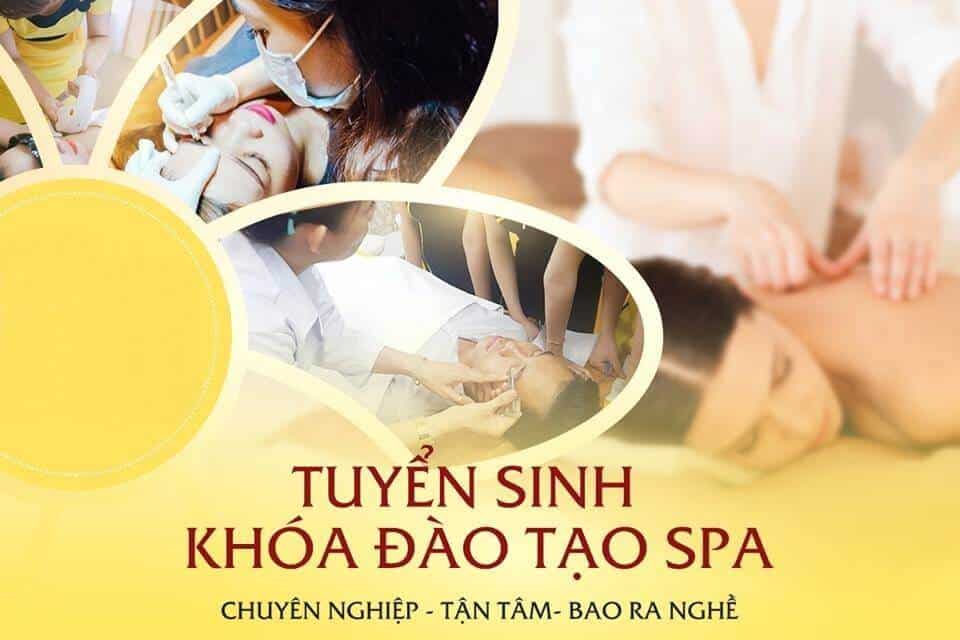 Spa Teaching Skin Care, Cosmetic Tattooing In Gia Lai
1. An An Beauty Institute
An An Beauty Institute With modern equipment system, friendly learning environment will be the ideal spa apprenticeship address that Gia Lai young people should not ignore.
Address: 126 Phan Dinh Phung, Pleiku, Gia Lai

Phone: 026.9371.8000
2. Louis Spa
Being trusted by many young people and choosing to learn a profession, Louis Spa is also a prominent name in Gia Lai for those who are passionate about cosmetology.
Address: 44 Tran Khanh Du, Pleiku, Gia Lai

Phone: 0935.617.555
3. Miss M Spa
Good teaching quality, modern equipment, dedicated teachers are what Miss M Spa brought to students when choosing to send here.
Address: A1-12 Tran Kien, Phu Dong Ward, Pleiku, Gia Lai

Phone: 0986.598.579
4. Heny Beauty
Henry Beauty is a prestigious and quality spa apprenticeship address in Gia Lai because of its friendly learning environment, methodical curriculum, and lots of practice.
Address: 56B Nguyen Trai, Yen Do Ward, Pleiku, Gia Lai

Phone: 0949.71.7079
5. Sac Viet Spa
Come to Sac Viet Spa With the system, students will always be given the best conditions to practice a lot on both fake and real models, in order to improve students' skills after graduation.
Address: 106 Thong Nhat, Pleiku, Gia Lai

Phone: 026.9633.5577
6. Ego Spa Gia Lai
The next name is Ego Spa Gia Lai, famous for its good teaching quality, enthusiastic teachers, low cost.
Address: 39B Nguyen Duc Canh, Hoa Lu Ward, Pleiku, Gia Lai

Phone: 0269.3887.999 - 0962.333.459 - 0898.362.679
7. Thuy Tien Spa
Thuy Tien Spa Possessing a system of high-tech equipment and experienced, friendly teachers, and a well-rounded curriculum will help you firmly grasp the knowledge in the spa industry.
Address: 111B Wuu Street, Ia Kring Ward, Pleiku, Gia Lai

Phone: 0935.532.768
8. Nhi Spa
Baby Spa is the next spa apprenticeship address in Gia Lai that you should not miss. It is assessed that the quality of teaching is good, easy to learn, easy to understand, the teacher is friendly and the cost is also quite soft.
Address: 61/55 Nguyen Dinh Chieu, Pleiku, Gia Lai

Phone: 0779.911.925

Apprenticeship spa, this is nothing new at all. But before learning a profession, you need to determine that you must be extremely interested in and suitable for the profession that you are studying. At the same time, it is necessary to choose a reputable center and facility to send because if you study at a poor address, it will cause "money to lose disability".
Understanding that, Miss Tram will reveal to you the secrets to help choose the best spa vocational school here: 8 Notes on Choosing a Beauty Profession & Experience Choosing a Beauty Training Place – Aesthetic Spa Is Right For You. Please consult and make the best decision for yourself.
Currently, at Miss Tram is very hot with the online cosmetic tattoo spray course "Quality Learning AT HOME with costs SAVING maximum"
Why online cosmetic tattoo spray course Miss Tram's is so hot? The answer is because the online class is like a real class, committed to quality, and saves costs. In addition, when students participate in this course, they will also receive Master Bao Tram Dong and a team of teachers with professional experience and pedagogical skills at the university. Miss Tram Academy Accompany you throughout the learning process.
More specifically, students are also granted a VIP account, have the right to study online all courses (skin care, cosmetic tattoo spray, makeup, nails, ...) of Miss Tram internal.
Who is Miss Tram's online cosmetic tattooing course for?
Those who have a passion for the beauty profession and more specifically, Cosmetic tattooing of Eyebrow - Eyelid - Lips.

Those who want can become an Embroidery Embroidery Specialist.

Those who manage at Spas and have the desire to learn and learn more advanced knowledge about the profession to be more effective at work.

Those who want to open a Spa for business including beauty services Eyebrows - Eyelids - Lips.
In addition, this course is suitable for:
Those of you who are already an expert in tattooing but lack the knowledge such as not being able to control how the hand strength is standard, not knowing the color mixing formula for each customer condition, how to handle the cases that have already been applied. Damaged customers do not like to fix, knowledge about types of numbness, ink quality is good, etc. or often encounter crisis problems with customers (finished eyebrows are stuck, The 2 sides of the eyebrows are uneven, the customer's lip color is not satisfied with bruises, the eyelids are blue, ...) without knowing how to solve it.

Being disoriented with the self-study process at home due to not knowing how to select knowledge.

You do not have the opportunity to participate in direct courses at a cosmetology academy or vocational training center and you want to be flexible in your study time and location.
Choosing an online cosmetic tattoo spray course at Miss Tram will not let you down. Because we have more than 17 years of experience, own a system of modern equipment, a team of good estheticians, with in-depth knowledge of the cosmetology profession will help you:
Master the comprehensive knowledge base from basic to advanced professional of a cosmetologist.

Firmly on all kinds of numbing, ink brands, tools, ... on the market with beautiful standard color formula, handling cases where customers have done it damaged, not satisfied.

Know how to choose the right method and color for each eyebrow shape, lips, or eyelids.

Become a Professional Eyebrow Embroidery Sculptor with a stable income.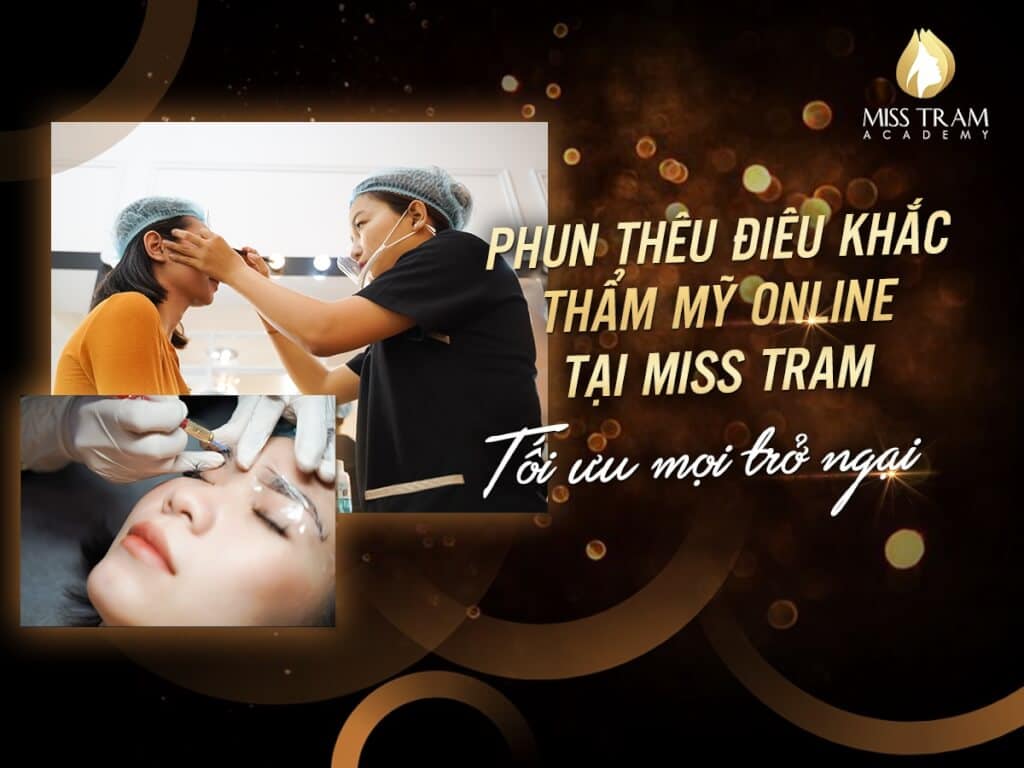 What are you waiting for without coming to Miss Tram to experience and absorb the most useful beauty knowledge. See more information about the course here: Aesthetic Sculpture Embroidery Course Online – Why Not?
Above is information about spa vocational training addresses in Gia Lai and valuable experiences to help choose a vocational school with good training quality. We hope that this will help you in your search for the most suitable vocational training address for you. If you know any other addresses, please comment below to share with everyone.