Currently, along with the development of society, the demand for beauty and aesthetics in Vietnam is also developing strongly. However, in the midst of the current situation of "mixed gold and brass" of training institutions like mushrooms, choosing a quality address is not a simple thing. Then today together Miss Tram VietNam Read the list of these Vocational spa for skin care, cosmetic tattooing Best quality at Bac Ninh .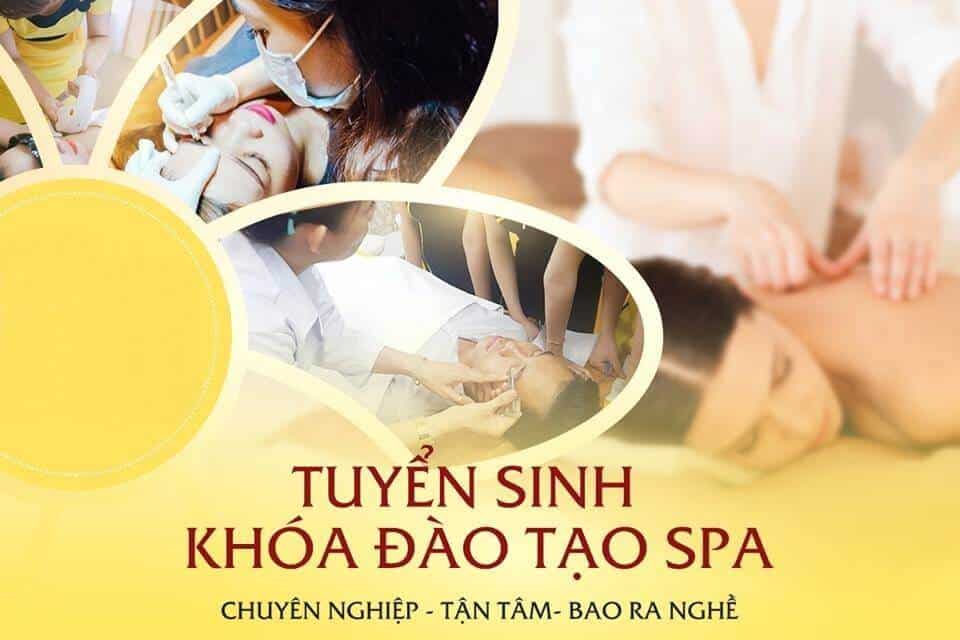 Vocational Spa Skin Care, Cosmetic Tattooing In Bac Ninh
1. Sapphire Spa
Sapphire Spa will be the perfect address for you in Bac Ninh. With a team of experienced instructors, you will be trained in depth from basic to advanced.
Address: 114 Huyen Quang, Dai Phuc, Bac Ninh

Phone: 0332.739.045
2. Ha Anh Spa
Ha Anh Spa well-known as a training facility with good quality, reasonable cost, dedicated teachers, so it is very suitable for young people in Bac Ninh.
Address: 190 Nguyen Trai, Ninh Xa Ward, Bac Ninh

Phone: 0961.251.977
3. Lavanda Spa
Lavanda Spa With more than 5 years of experience in the profession, along with a team of professional and highly skilled teachers will definitely help you become a real cosmetologist.
Address: 36A Le Quang Dao, Tan Hong, Tu Son, Bac Ninh

Phone: 022.2655.1165
4. Hansoha Beauty Institute
Come to class at Hansoha Beauty Institute, you will have direct contact and practice with the most modern and advanced equipment today.
Address: 56 Nguyen Gia Thieu, Suoi Hoa, Bac Ninh

Phone: 0948.386.899
5. Huong Beauty Spa
Huong Beauty Spa is the unit that owns a set of standard textbooks, compiled in the most methodical and meticulous way. Along with that is a friendly learning environment so you will learn very quickly.
Address: Tran Xa, Yen Phong, Bac Ninh

Phone: 0338.896.715
6. Royal Spa
It would be remiss not to mention it royal spa. Possessing a team of good teachers, modern machinery and equipment, standard curriculum, spacious facilities, .. surely this is a great address for you.
Address: 172 Nguyen Gia Thieu, Suoi Hoa, Bac Ninh

Phone: 0982.488.663
7. Anrose Spa
Anrose Spa It is also one of the addresses chosen and studied by many young people in Bac Ninh. Because Anrose not only trains professional knowledge, but students also learn more external knowledge related to the industry.
Address: 73 Huyen Quang, Ninh Xa, Bac Ninh

Phone: 022.2381.3283
8. Julia Spa
With many years of experience, and a team of enthusiastic and enthusiastic teachers, Julia Spa is the address that you should not miss in Bac Ninh.
Address: 72 Nguyen Quang Dao, Dai Phuc, Bac Ninh

Phone: 0942.868.568
9. Viet Korea Beauty Academy
Viet Korea Beauty Academy is the "golden" address for you to put your trust. Viet Korea Beauty Academy always applies advanced and modern technologies from developed countries into the teaching process.
Address: 213 Ngo Gia Tu, Suoi Hoa, Bac Ninh

Phone: 0886.221.999
10. Victory Spa
Victory Spa is a name you should not ignore. With a team of highly qualified teachers with many years of professional experience, you will learn the best quality lessons here.
Address: 396 Nguyen Trai, Vo Cuong, Bac Ninh

Phone: 0908.669.866
11. Lily Spa
Highly skilled lecturers, methodical curriculum, modern equipment, friendly learning environment are the outstanding advantages of the courses at the university. Lily Spa.
Address: Quan Dinh, Yen Phong, Bac Ninh

Phone: 0375.881.991

Spray cosmetic tattooing has been and will be one of the professions that bring a "huge" income for young people. Therefore, it is not too difficult to understand when today in almost all parts of the country, including young people in Bac Ninh follow this path. However, to be able to become a real cosmetologist is not within days 1 and 2, but it is a process that you have to go through the training and training of experts.
Besides, there are also many young people who have a passion for this profession but are limited in terms of time, cost or other problems, so they cannot go to the centers to participate in the course. That's why online cosmetic tattoo spray course of Miss Tram VietNam appeared. This course aims to provide an open future for all young people across the country.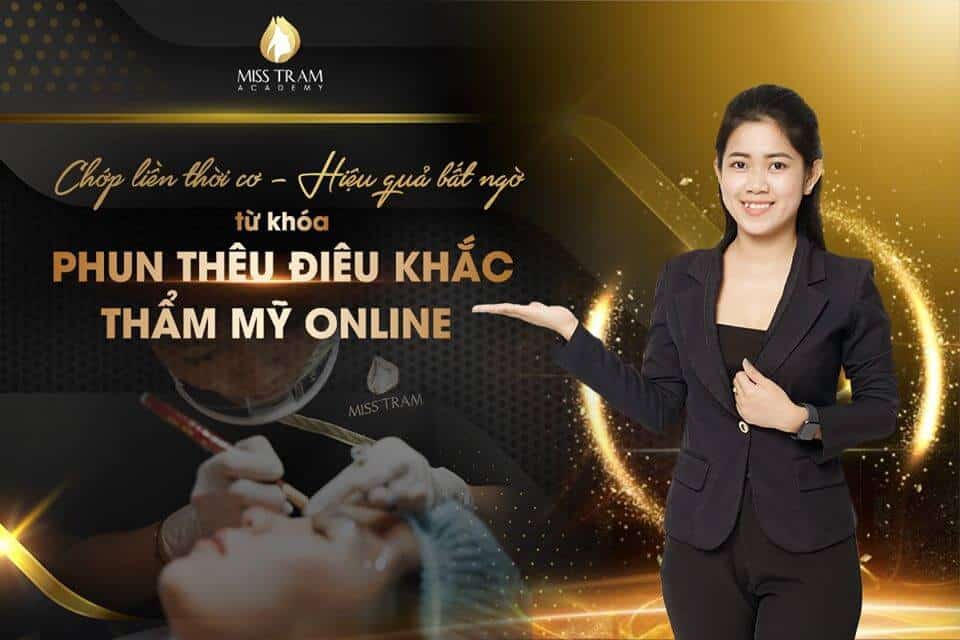 Who can join Miss Tram's cosmetic tattooing course?
People who have a passion for the beauty profession and more specifically, Cosmetic tattooing of Eyebrows - Eyelids - Lips.

Those who wish to be able to become an Embroidery Specialist in Aesthetic Sculpture.

Those who manage at Spas and have the desire to learn and learn more advanced knowledge about the profession to be more effective at work.

Those who want to open a small Spa to a professional Cosmetology Center which has beauty services for Eyebrow - Eyelid - Lips.
Or:
You are already a Professional in Tattooing but have a lack of knowledge such as not being able to control your hand strength as standard, not knowing the color mixing formula for each customer condition, how to handle cases that have already been applied. Damaged customers do not like to fix, knowledge about types of numbness, ink quality is good, etc. or often encounter crisis problems with customers (finished eyebrows are stuck, The 2 sides of the eyebrows are uneven, the customer's lip color is not satisfied, they are bruised, the eyelids are blue, ...) without knowing how to solve it.

Being disoriented with the self-study process at home through groups, youtube, facebook, ... and a lot of mixed information on the internet.

You are not eligible to participate in direct courses at the Academy of Cosmetology or Vocational Training Center.

You want to be flexible with your study time and location.
Miss Tram's online cosmetic tattoo spray course gives you the following benefits:
+ Save time:
The Online Cosmetic Tattooing course helps to be flexible with the time budget, without losing time to move, not to be constrained or influenced by anyone.

Arrange the Timetable with the Course Manager in the Morning – Afternoon – Evening… or any time of the day.

What you need is an internet-connected technology device, which can be studied at home or taken anywhere.
+ Cost savings: Online courses are considered a cost-effective solution compared to studying at centers (simply because there will be no travel costs, space costs, lecturer costs, etc.).
+ Interactivity – High connection:
You have the opportunity to meet, exchange with other students / lecturers / KTV via the internet, group chat, fanpage, forum...

Thereby increasing interaction, helping you to exchange knowledge about cosmetic tattooing with Instructors, colleagues and friends to increase progress.
+ Vocational skills are not inferior to Offline courses:
Studying online, but not because of that, the quality is lower, guys, the lecturers will always accompany you throughout the learning process to help students develop to their full potential.

If you do not understand where, just ask a question, you will be answered by the Instructor as soon as possible. There are practice exercises, skill assessment through each lesson.

Having an extra time of 4 - 10 days of practical practice at the Center helps strengthen skills and effective skills.
Online cosmetic tattoo spray course of Miss Tram VietNam has trained and led many young people who are passionate about the profession to follow their own path. This is considered to be one of the most effective courses out there!
Choosing the right quality and reputable training institution is a good "springboard" to help you reach your dream in the most convenient and smooth way. Therefore, before choosing a reputable training unit, you must carefully consider and research all information about that unit. If you still have questions and are not sure what factors should be based on to choose, you can refer to the following articles: Spa Apprenticeship Experience – How to Choose a Good Beauty Training Place in Vietnam?
Miss Tram ensures that this will be a piece of knowledge, an important piece of information to help you find the right training unit. Be smart and wise in finding and choosing a place to confidently convey your passions and dreams! If you have any questions, please contact Miss Tram directly for answers.