Do you have a passion for the industry? beauty profession, especially skin care and cosmetic tattoo spray. You want to study but don't know which prestigious and quality training institution to choose to send your passion and dreams. The article is below Miss Tram VietNam will send you a list of spa vocational training facility best quality in Binh Phuoc. Let's follow it!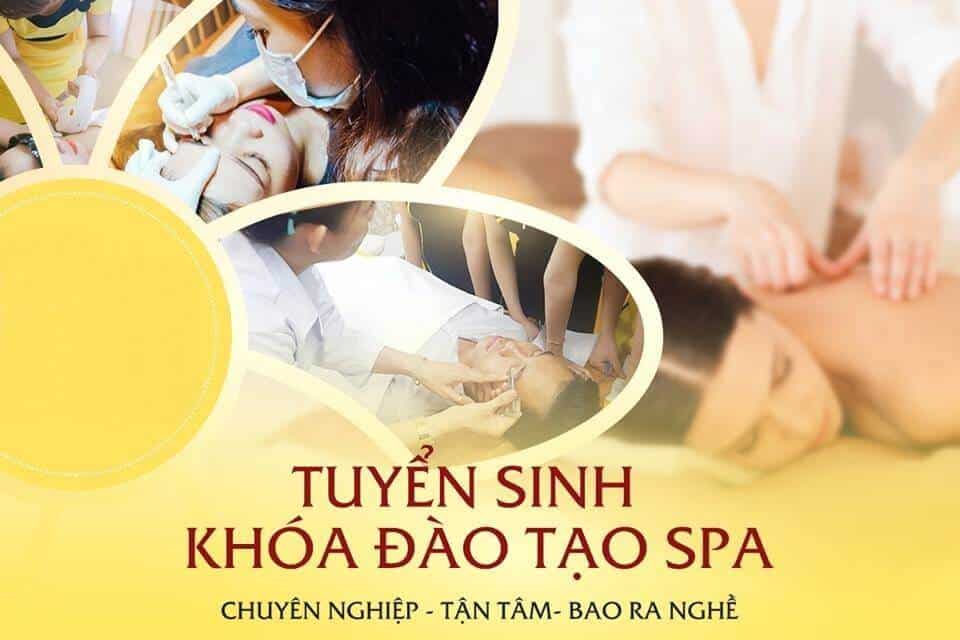 Spa Get Vocational Training on Skin Care, Cosmetic Tattooing in Binh Phuoc
1. Seoul Spa
Seoul Spa is a training address that is highly appreciated by the students themselves because of its very effective training quality, along with affordable fees.
Address: No. 20, Phu Thanh Quarter, Tan Phu Ward, City. Dong Mango, Binh Phuoc

Phone: 0938.453.13
2. Institute of Beauty and Training VI.VA
Join a training class in cosmetic tattooing at VI.VA You are not only exposed to advanced and modern equipment. Besides, there are also a team of highly qualified teachers with many years of direct experience in the classroom.
Address: Dong Xoai Crossing, Phu Rieng Do Street, Tan Dong, Dong Xoai, Binh Phuoc

Phone: 0949.553.286
3. Chau Thao Spa
With a team of experienced instructors and modern equipment, Chau Thao Spa will help you fully grasp the knowledge from basic to advanced and have solid skills.
Address: 111 Hung Vuong Street, Tan Binh, Dong Xoai, Binh Phuoc

Phone: 0945.499.399
4. Lan Huong Spa
Modern and spacious facilities; Comprehensive, scientific and professional training programs are commitments that Lan Huong Spa give to students.
Address: 766 National Highway 14, Tan Binh, Dong Xoai, Binh Phuoc

Phone: 0968.797.818
5. Chicken Spa
Chicken Spa owns a teaching staff with many years of teaching experience, is highly skilled and has worked in the field of beauty care. So surely this place is the perfect choice for you in Binh Phuoc.
Address: 112 Tran Hung Dao, An Loc, Binh Long, Binh Phuoc

Phone: 0948.708.728
6. Kay Spa
When taking a course at Kay SpaStudents not only have direct contact with modern machinery and equipment. Besides that, they are also regularly trained in soft skills to be able to develop in the most comprehensive way.
Address: 15 Vo Van Tan Street, Tan Binh, Dong Xoai, Binh Phuoc

Phone: 0939.663.911
7. DIVA Aesthetic Institute
With modern facilities, a team of trained instructors have a lot of practical experience. Come to VIVAStudents will be fully equipped with practical knowledge to easily apply immediately to work after graduation.
Address: No. 33 Phu Rieng Do Street, KP. Phu Thanh, Dong Mango, Binh Phuoc

Phone: 1900.6689
8. Vy Beauty Spa & Academy
Take a course at Vy Beauty Spa AcademyStudents will practice on modern standard equipment, under the dedicated teaching of lecturers.
Address: No. 320 National Highway 13 Group 11, Hamlet 2, Chon Thanh, Binh Phuoc

Phone: 0937.026.364

Choosing a reputable and quality beauty spa training address is the "springboard" for you to step onto the rose path in front of you, right? Therefore, you need to research carefully before making your final choice. However, if you really want to choose a quality and reputable training institution, you can refer to the following article: Experience Choosing a Prestigious, Suitable Spa, Cosmetic Tattoo Apprenticeship Address. These skills will be important knowledge to help you get off to a good start.
Not everyone has a passion for Cosmetic tattooing profession Anyone can join the course. Because among them, there are many people who have passion but are hindered by geographical distance, accommodation costs, means of transportation, limited time, ... and many other objective reasons.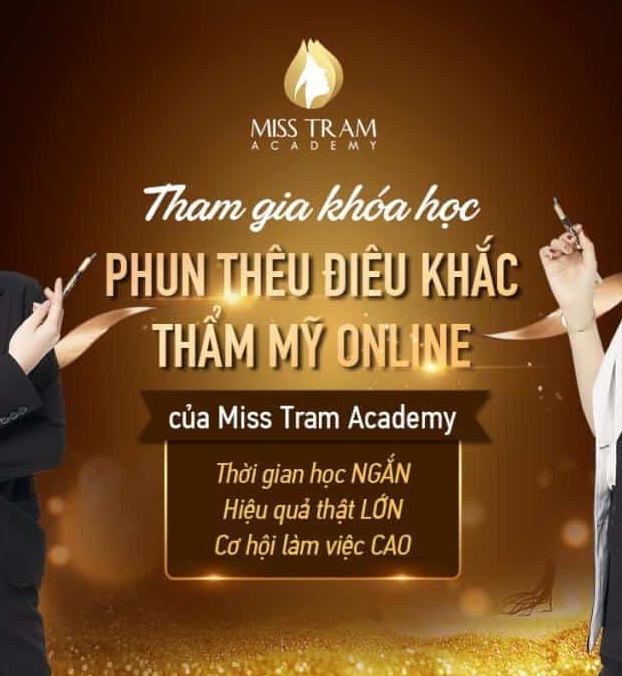 Because of that, Miss Tram has pioneered to invest and bring you an online cosmetic tattoo spray course. The course helps you to come to your passion at low cost, while saving "time fund" in the best way.
Save time:
This is perhaps the most obvious and obvious benefit. You will not have to spend a lot of time and effort to move to a study location hundreds or thousands of kilometers away.

The online cosmetic tattooing course helps to be flexible with the time, without being constrained or influenced by anyone.

Arrange the Timetable with the Course Manager in the Morning – Afternoon – Evening… or any time of the day.

Miss Tram's online cosmetic tattooing class allows you to study at home, at work or in other locations. All you need is a computer or smartphone with an internet connection to watch videos in HD.
Cost savings:
Online courses are considered a cost-effective solution compared to studying at centers (simply because there will be no travel costs, space costs, lecturer costs ...)
Comfortable study space:
The reality is that there is no study space that makes you feel as comfortable as at home, or in the spaces you love. A comfortable study space will help you study better, absorb faster and more effectively.
Interactive – highly connected:
You have the opportunity to meet, exchange with other students / lecturers / KTV via the internet, group chat, fanpage, forum...

Thereby increasing interaction, helping you to exchange knowledge about cosmetic tattooing with Instructors, colleagues and friends to increase progress.
Mastery is not inferior to offline courses:
Studying online, but not because of that, the quality is lower, guys, the teaching team will always accompany you throughout the learning process to help students develop to their full potential.

If you do not understand where, just ask a question, you will be answered by the instructor as soon as possible. There are practice exercises, skill assessment through each lesson.

There is an additional time of 4 - 10 days of practical practice at the center to help strengthen skills and effective skills.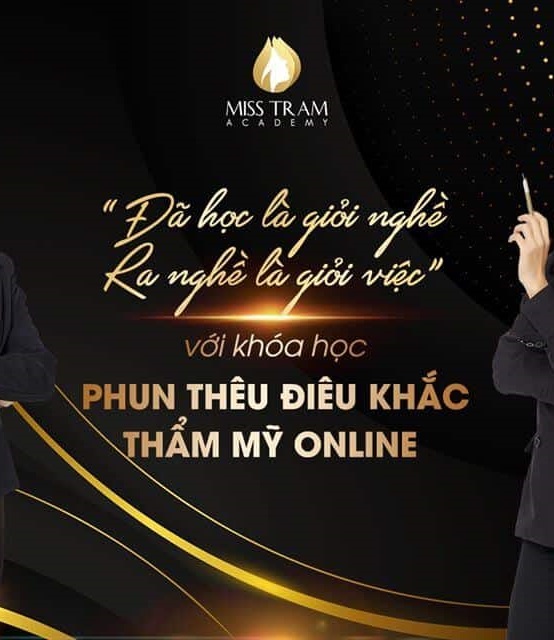 Here is a list of places Vocational training in skin care and cosmetic tattooing most prestigious in Binh Phuoc mà Miss Tram VietNam would like to introduce to you. With the above sharing, we hope that you will have enough information to make a decision and choose the right course for you. The correct choice will be a good stepping stone to realize the dream of pursuing this HOT beauty industry!