Skin care profession, cosmetic tattoo spray currently being chosen by many young people. If you are looking for a tattoo spray training address in Cao Bang then do not miss the article below. Miss Tram VietNam This promises to be useful information for choosing your spa study place.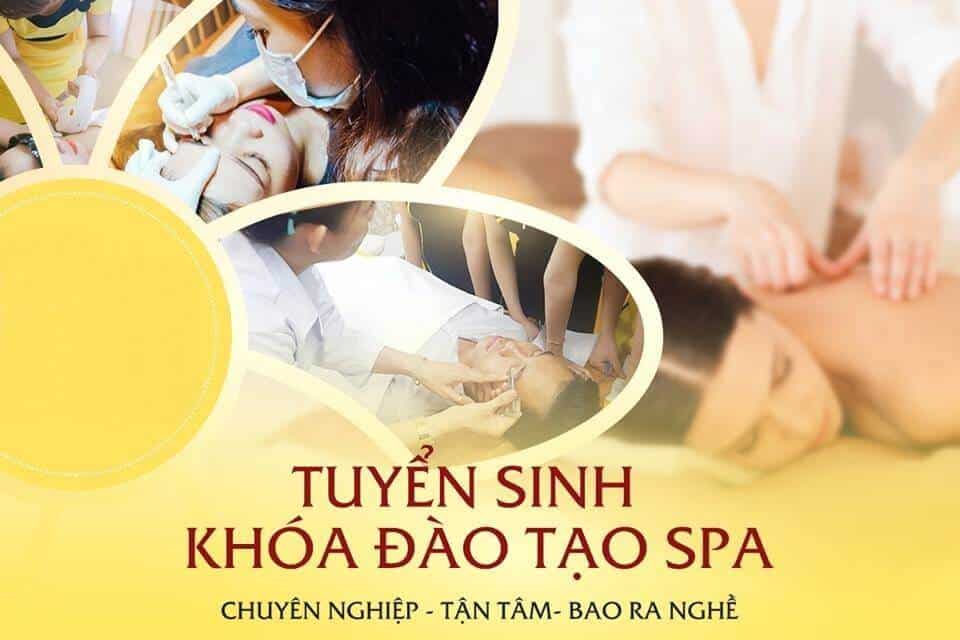 Spa Vocational Training Spa, Tattooing, Aesthetic Sculpture in Cao Bang
1. Amys Spa
Amy's Spa owns a large number of teachers with good skills, experience and extremely good professional qualifications.
Address: No. 255 Nuoc Giap Street, Hop Giang Ward, City. As tall as

Phone: 0962.010.033
2. Bloom Clinic & Spa
At Bloom Clinic & Spa, you will have access to a lot of advanced and modern techniques. Moreover, the dedicated instruction from theory to practice by a team of experienced and highly skilled instructors.
Address: No. 7, Be Van Dan Street, Hop Giang Ward, City. As tall as

Phone: 0382.414.456
3. Sen Spa
Sen Spa owns a team of teachers with many years of experience, highly skilled and regularly updated with the most advanced and modern techniques.
Facility 1: Group 1, Be Van Dan Street, Hop Giang Ward, City. As tall as

Facility 2: No. 40 Kim Dong, Hop Giang Ward, City. As tall as

Phone: 0913.279.325
4. Bao Ngoc Spa & Clinic
Teaching staff at Bao Ngoc Spa & Clinic are leading experts in the beauty care industry will participate in direct teaching.
Address: No. 65 Group 4, Tan Giang Ward, City. As tall as

Phone: 0888.820.166
5. Royal Spa
While studying at royal spa, you not only master professional knowledge from basic to advanced. Besides that, you are also trained to develop the necessary skills in the beauty industry.
Address: No. 21 Street 30/10, Song Bang Ward, City. As tall as

Phone: 0868.929.595
6. Mr. Spa
Mr. Spa will bring you the most in-depth knowledge of skin care and cosmetic tattooing, so that you can confidently work as a beautician at major spas and salons.
Address: 142 Be Van Dan Street, Hop Giang Ward, City. As tall as

Phone: 0942.608.218
7. Min Beauty Center
Min Beauty Center brings the leading training programs in the field of cosmetology with professional curriculum that is prepared in a methodical and meticulous way.
Address: No. 3 Ly Tu Trong, Hop Giang Ward, City. As tall as

Phone: 0973.149.721
8. Hien Deli Spa
Classroom system of Hien Deli Spa standard design, moreover updated with modern and advanced machinery and equipment from developed countries.
Address: Km4 Group 3, De Tham Ward, City. As tall as

Phone: 0985.419.333
9. Oanh Oanh Spa
While studying at Oanh Oanh Spa You can be completely assured that the knowledge you learn will be extremely practical, sticking to the curriculum and the most practical skills.
Address: House number 092, Group 22 Orange Garden, City. As tall as

Phone: 0978.498.666

How to choose a reputable and quality cosmetic tattoo training center has caused many young people a headache. Because the current situation of "mixed gold and brass" has made it impossible for young people to know where a quality training institution is. Therefore, before making a choice and making a final decision, you must learn the information as well as consider it carefully! If you are sure 8 criteria for choosing a spa apprenticeship address that Miss Tram shared, you will be more confident in choosing where to study spa.
Studying directly at the center is not the only way for you to succeed in this industry. Besides, the online cosmetic tattooing course is also considered as the "key" to help you open that bright door.
Online cosmetic tattoo spray course of Miss Tram VietNam not only bring all the necessary knowledge. But this is also a course to help you have a passion for cosmetic tattooing but can't go to the centers because you don't have the conditions.
Why should you choose Miss Tram's online cosmetic tattooing course?
Sitting anywhere you can also join the course without taking much time to move to the center.

Your electronic device only needs a strong internet connection and has the standard curriculum of Miss Tram Academy.

Although it is an online course, the quality of training is not inferior to that of an offline course.

Registering for Miss Tram's online cosmetic embroidery course, you will be completely answered all questions like when studying offline.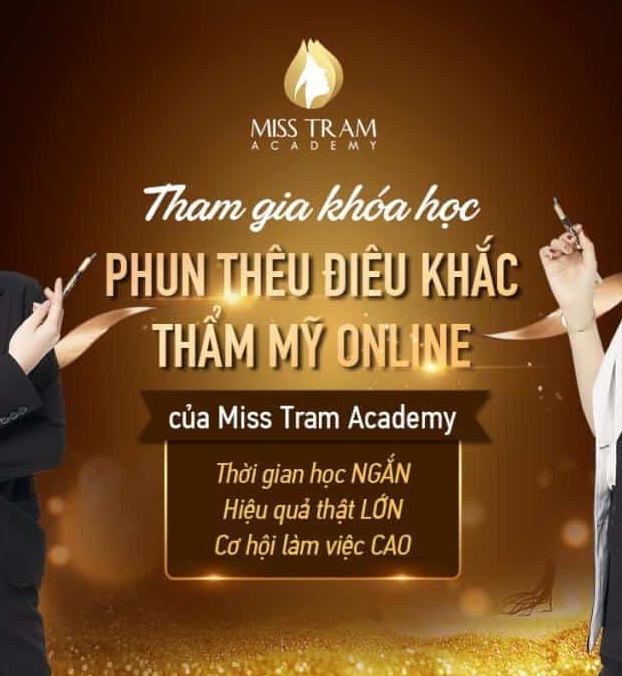 The online cosmetic tattoo spray course at Miss Tram brings you outstanding differences:
Each lesson is a clear full HD quality video, the duration is about 10-15 minutes with detailed instructions by a team of professional instructors, clear audio, easy to understand communication.

The teacher will guide perfection on both eyebrows and eyelids, not just the forehand side like other training institutions.

When registering for a course at Miss Tram, students will be fully equipped with standard textbooks.

The course is only suitable when you are really serious because you need to complete your lessons in each level, study until you submit them through your account.

There will be no distractions as you will be connected directly with the Academy Administrator to Design your own Study Schedule at home.

When participating in the cosmetic tattoo spray course at Miss Tram, you will be able to join the closed zalo/facebook group. Here, you can easily send questions to the lecturer, along with sharing experiences and learning more knowledge.

After completing the course submission, the Students will be able to review directly at Miss Tram Academy from 4 to 10 days and prepare a response form prepared by the center, under the 1-on-1 support of the team. Teacher.

Students after completing the Professional Eyebrow - Eyebrow - Lip Embroidery Spraying course at Miss Tram will be granted a certificate recognized by the State and fully valid nationwide.
With the outstanding advantages that Miss Tram's online cosmetic tattooing course brings, it will definitely help you take the most favorable steps. From there, you can use it as "leverage" to be able to promote your abilities and capabilities. To learn more about this course, you can refer to the details at ONLINE SPRAY TREATMENT COURSE Miss Tram's latest update.
Above, Miss Tram has selected for you a list of famous places for training in skin care and cosmetic tattooing in Cao Bang province. Hopefully with the information that Miss Tram shared above, you will have more luggage as well as confidence to choose the right training facility.