A smooth, white skin is always the dream of everyone. And if you are a believer in beauty products from natural ingredients, then this is definitely the article for you. An effective but very safe method of skin lightening from two very simple and easy-to-find ingredients is rice water , and green tea. And Miss Tram Academy Find out with the article below.
The Skin Brightening Effect of Rice Water and Green Tea
Rice water is known to be a commonly discarded product that is very common in every household. However, it is an extremely beneficial ingredient in beauty that many people do not know. Rice water contains vitamin B5, which is very beneficial for the skin, with the effect of improving skin pigmentation to become whiter and more evenly, effectively tightening pores.
In addition, they also help fade brown spots caused by a request , and blackhead. Using rice water regularly can help the skin to prevent signs of aging and help the skin become more radiant and beautiful.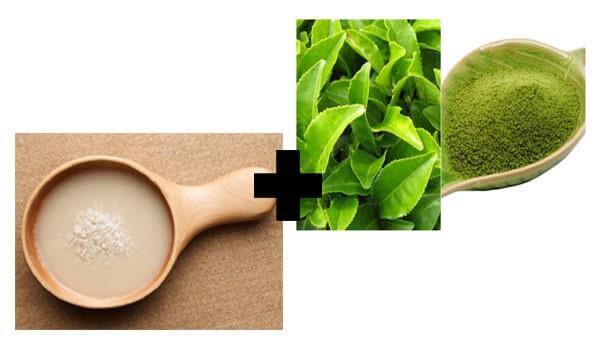 When it comes to green tea, everyone knows its great effects in beauty. You can come across a lot of beauty products today that contain green tea ingredients or are extracted from green tea. With antioxidant nutrients 20 times higher than vitamin E, green tea has anti-inflammatory, antibacterial, anti-acne and moisturizing properties.
In addition, green tea contains a type of tannin that has a great ability to tighten pores, helps to clean sebum as well as eliminate bacteria on the skin. In particular, green tea is also a very good whitening ingredient, helping to treat acne, reduce dark spots and fade scars effectively.
Combining these two ingredients together will give you a super economical but also super effective pink and white skin care mask.
The recipe for skin lightening from rice water and green tea
Material: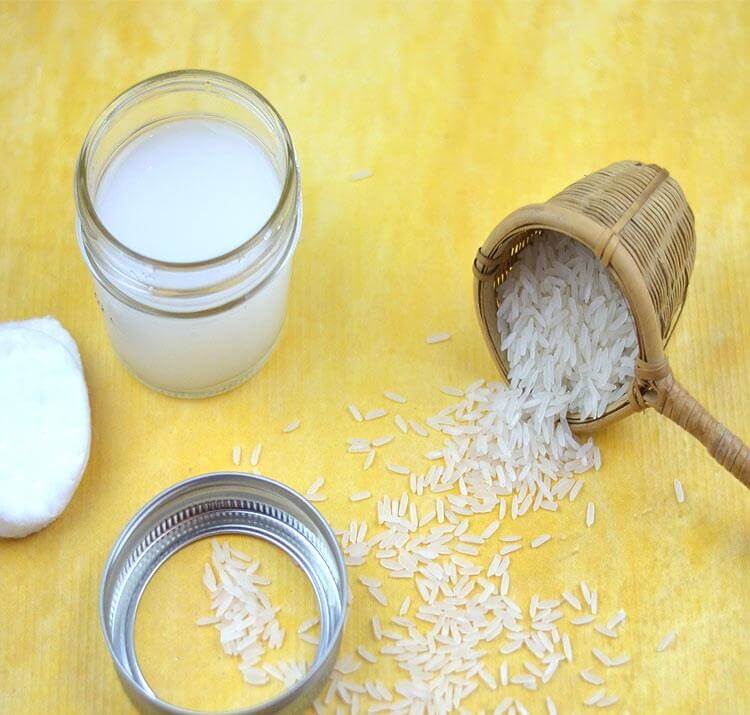 Green tea: Here Miss Tram recommends using pure matcha green tea powder to keep the nutrients in green tea as well as promote its use in the best way. You can make it yourself at home or buy it at stores that specialize in matcha green tea powder or natural beauty ingredients.
Rice water: To get the most nutrients, you should take the turbid part of the rice water. How to do this: You should wash the rice about 2 times to remove the dirt, then wash the rice thoroughly and make sure to put water in a clean bowl. Let this rice water settle for 45 minutes to 1 hour, then remove the clear water above, so you have the most nutritious rice water.
Doing:
Step 1:

Mix 1 cup of rice water with 2 tablespoons of green tea powder to create a paste.

Step 2:

Facial steam. You should perform the facial steaming step before applying the mask to help unclog pores, dirt and bacteria are also thoroughly removed and help absorb the best nutrients from the mask. You can steam your face with water or add other suitable ingredients. And one thing you need to pay attention to is to wash your face before steaming.

Step 3:

Mask. After facial steaming, apply the mixture of rice water and green tea above to the entire face and neck. Massage gently for about 2-3 minutes, then leave it on until dry or no more than 30 minutes.

Step 4:

Wash your face. You use warm water to wash your face then rinse with cold water to close the pores as well as make the skin firmer.

Step 5:

Moisturize the skin. After applying the mask, immediately apply lotion to help moisturize as well as increase the beauty effect.

Notice:
Because this is a natural skin lightening formula, the results will not be visible after 1-2 times. But you should persevere 2-3 times per week, after 2 months you will see a noticeable change in your skin.

Because rice water will make your skin more susceptible to the sun and environmental factors, so apply a mask at night and apply sunscreen during the day every time you go out.
With only easy-to-find ingredients and low cost, the recipe for skin lightening from rice water and green tea will be a treat for those who are looking to improve their skin. With this mask, not only skin color is significantly improved, but common skin problems such as acne, melasma, wrinkles or large pores are effectively overcome. Please try and share your experience with Miss Tram Academy ok
Miss Tram will be very happy to receive successful responses from you. Wish you will own a beautiful flawless skin!