|Question – Answer| Why When Spraying, The Lower Lip Goes More Thoroughly Doesn't Have The Same Color As The Upper Lip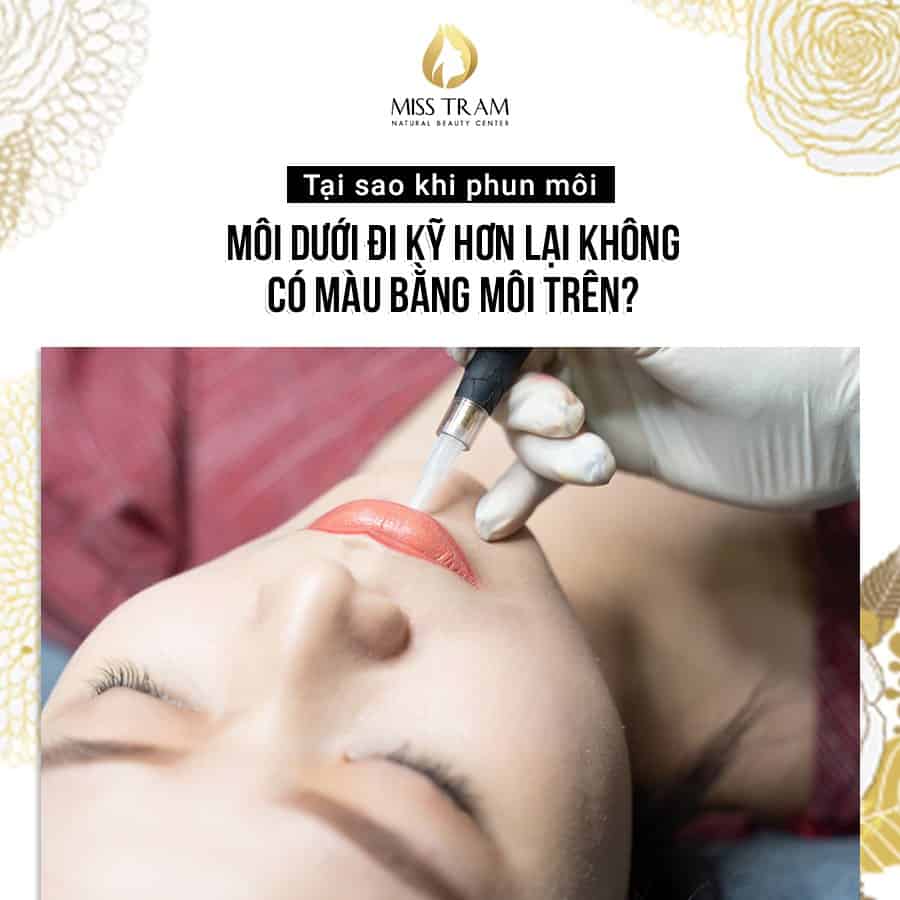 During the training process for generations of students, Miss Tram received many questions related to LIPS.
Your questions help us understand that you are really interested in learning and have taken the time to thoroughly research them. Therefore, Miss Tram always tries to synthesize regular questions to be able to assist in answering questions quickly and accurately for you.
In today's Q&A column, Miss tram Academy will share the case "Why is it that when spraying the lips, the lower lip is not as colored as the upper lip?"
- First, let's recall the lip spray technique. Lip injection is similar to traditional tattooing, that is, using a needle to impact the skin of the lips to bring colored ink in.
However, today's lip spray is much more modern, the needle used is a microscopic type that only affects the epidermis and is completely non-invasive.
So why is it that when spraying lips, the lower lip is not as colored as the upper lip?
There are many possibilities that lead to the above phenomenon, in my experience, Miss Tram mentioned the 2 most common reasons:
– Because the lower lip is more powerful, it is damaged and the color is slower than the upper lip
- The skin of the upper lip is thinner than the skin of the lower lip, so it sticks to the ink
To avoid this error appearing in the beauty process for customers, Miss Tram's students and technicians, remember to pay attention to the force of the needle, the depth of the needle and the speed of the...
In addition, a small note is that when spraying the upper lip, it should be 1-2 layers less than the lower lip because the upper lip skin is thinner, the color will stick faster. The finishing time for a maximum spray is 45 minutes, Because if you go with the needle for too long, it can easily lead to damaged lips, later the lips will be dark and patchy.
Based on the above sharing, Miss Tram hopes that you will avoid this error to create perfect "lip works"!
For more information, the popular courses (depending on your interests) to get started with the beauty industry are:
- Course in Tattooing, Embroidery, Cosmetic Sculpture (eyebrows - eyelids - lips)
- Skin Care and Treatment Specialist Training Course
- Professional Eyelash Extensions - Professional Eyelash Curling Course
Please contact Miss Tram immediately for more advice on the study path as well as to see if you are suitable for this profession or not!