|Questions| Why Apply Ointment After Eyebrow Spray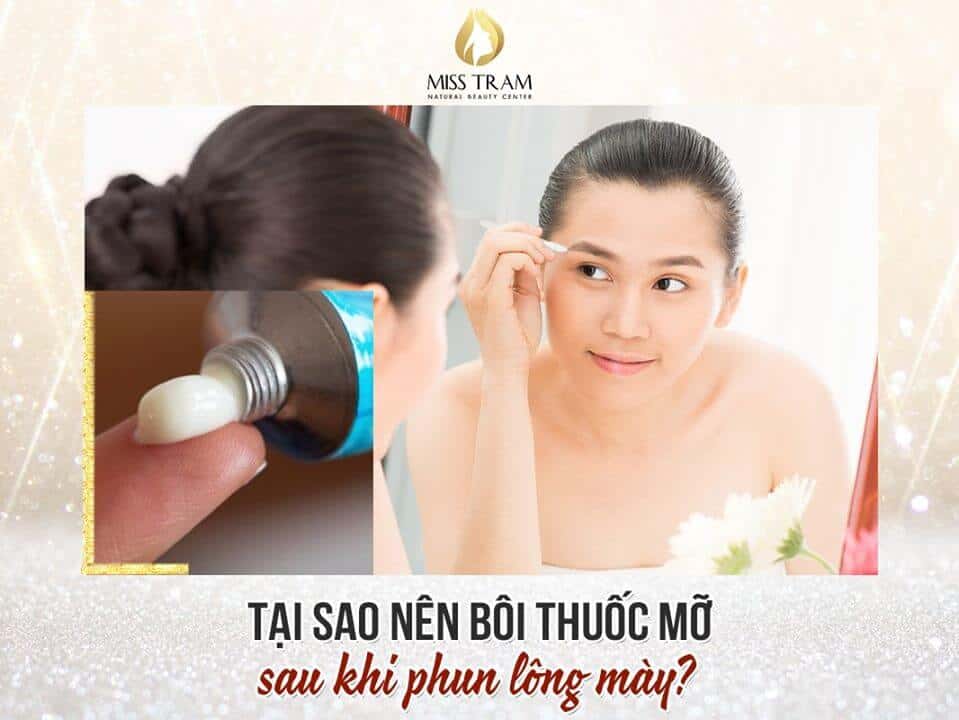 Do you remember after the eyebrow tattoo is finished, the specialist will carefully advise on the diet, the care notes and especially the use of ointment to apply on the eyebrows to get the perfect eyebrows. good?
Do you have any questions about why you should apply ointment after eyebrow spray? Or have any of you ever been lazy to apply ointment after cosmetic surgery?
Miss Tram will explain for you to understand and be more serious:
Ointment is a term for medicines consisting of a pharmaceutical product mixed with a fat (sometimes vaseline) for topical application to the skin or mucous membranes. Ointments are usually in the form of a thick, greasy cream that is used to protect the skin or to penetrate the skin.
The reason the ointment is recommended to be used after beautifying the eyebrows is because:
+ The ointment has anti-inflammatory ingredients, protects the skin and prevents swelling and skin infections.
Therefore, you should apply ointment in the first 3-5 days to reduce swelling, soothe damaged skin, and at the same time fight inflammation, prevent infection as well as provide moisture to the skin. .
Open medicine will promote its True Effectiveness if when using you follow the following steps:
Step 1: Wash your hands with antibacterial soap.
Step 2: Use a cotton swab dipped in warm water (made from boiled water to cool), dab on the eyebrows and stroke gently. This is how you clean your eyebrows and remove dirt for perfect cosmetic results.
Step 3: Use another cotton swab to dip the ointment and gently apply it to the tattooed eyebrow area. You should only use ointments instead of Vaseline or oil-based products and cosmetics because they can "clog" the pores.
𝑳𝒖̛𝒖 𝒚́ 𝒏𝒉𝒐̉: Do not apply the ointment too thick or too thin and counterproductive.
Step 4: Continuously apply ointment for the first 3-5 days after tattooing and gently wash your face with warm water after waking up in the morning and before going to bed at night.
In addition, in order for the eyebrows to fall out beautifully, you should also remember to follow the advice of the experts!
------------
Don't hesitate, call HOTLINE 1900 7018 For advice on all your questions about the service, please:
Spray eyebrows with American ink powder with 100% herbal extracts to create sharpness for eyebrows.

Ombre eyebrow spray creates a natural, soft eyebrow shape.

Magic Shading eyebrow spray creates more depth and sharpness.

Sculpting eyebrows with natural fibers 3D - 9D highlights each eyebrow line.

Sculpting eyebrows with natural fibers combined with Spray Ombre / Shading creates both natural and sharp eyebrows.

9D technical male eyebrow sculpture.

Delete, correct, handle the phenomenon of red and blue eyebrows before.

...