The Secret To Creating Sharp Eyeliner Borders With Water Eye Spray Technique
There are many options for women to choose for eye makeup, so that they become bigger, rounder, sharper and more attractive: press/click/cut eyelids, wear lenses/contact lenses, cut corners, create eyelid contour…
Among them, eyelid spray, more specifically technical WATER SURFACE SPRAY (creating eyelid contour) is still one of the optimal options chosen by women because thanks to creating a sharp eyelid border, the eyes look like "new clothes", looking more attractive.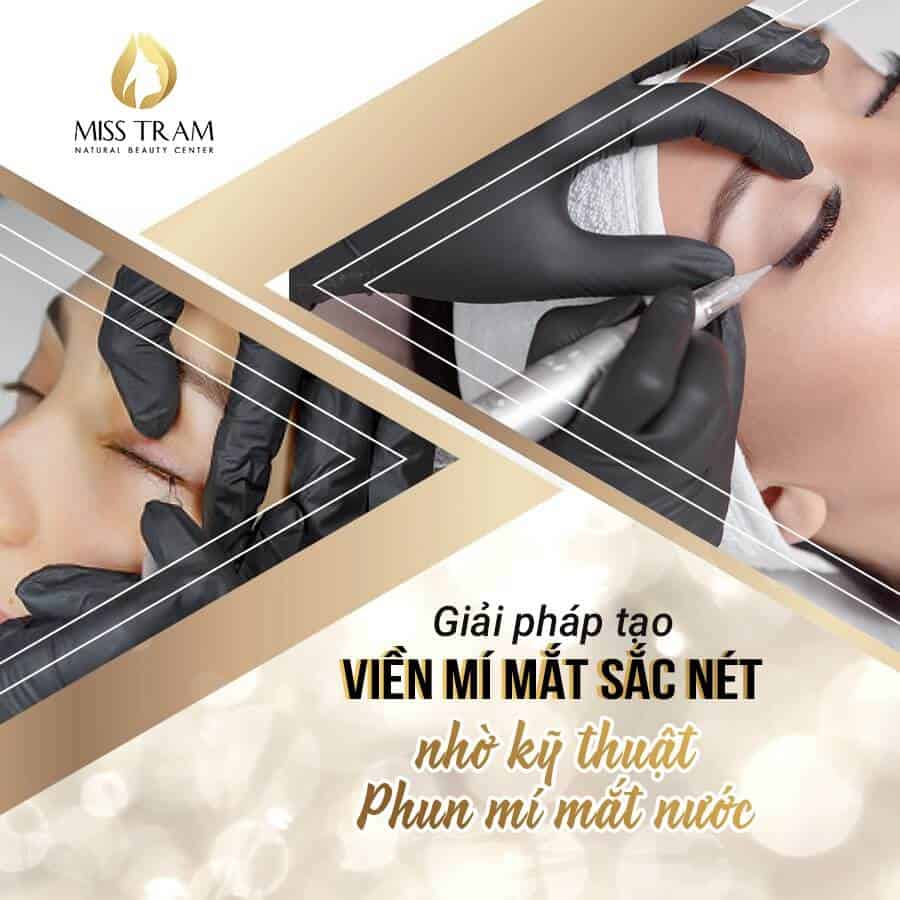 A few notes when using Technique of Spraying watery eyelids mà Miss Tram VietNam I would like to remind the students as follows:
- Technically, Water Eyelid Spray is a 2-3mm thick eyelid spray, the thinner the eyelid, the smaller it gets and gradually thickens towards the middle to the tail of the eye. The corners of the eyes are slightly raised and thicker than the middle (opening corners), creating larger and longer eyes. After spraying, you will see sharp eyelid edges, expanding the size of the eyes.
– When spraying eyelids for customers, it is necessary to carry out SUCCESSFUL INSTRUCTION, thus minimizing pain for customers, making tattooing process easier and more effective.
– Align the angle of the injector so that the needle tip is perpendicular to the skin surface, the holding position must be steady.
– The force of the needle must be even and gentle. Eyelid spray does not go as fast as eyebrow spray, and at the same time, the line must be definitive, avoiding going back and forth too many times causing damage to the eyelid skin.
– When spraying the eyelid, the needle is about 1mm long, but the depth of the needle goes into the skin about 0.02mm-0.04mm. Keeping this distance will help limit the tearing of the eyelid skin causing a lot of blood as well as prevent ink stains on the eyelids.
In addition, the Course at Miss Tram Academy will also teach more carefully in each technique of eyelid spraying, notes, how to overcome in case of damage, damage ...
If you find the information on Miss Tram to be useful, please SHARE or SAVE it immediately to use when needed. Miss Tram will also be very happy to receive more feedback, experience or questions that need to be answered that everyone sends!
Details of courses at Miss Tram Academy at: https://bit.ly/2L99UzV
Please contact Miss Tram immediately for more advice on the study path as well as to see if you are suitable for this profession or not!
See more articles in this category Question and Answer of Miss Tram VietNam!