Eyelash extensions is currently one of the services that are favored by many women, because it brings a glittering, seductive eyes with thick, curled eyelashes. In addition, eyelash extensions also help cover the inherent defects of the eyes such as short, sparse eyelashes, small eyes, drooping eyelids, etc. With increasingly modern and progressive beauty technology, there are many methods. Different eyelash extensions are created to meet the diverse needs of women.
So now there are eyelash extension method Which is common and how to distinguish it? Please refer to the article below.
Distinguishing Current Popular Eyelash Extension Methods
1. Classic Eyelash Extensions
This is one of the most basic eyelash models in eyelash extensions. Classic eyelash extension is a method of joining each false eyelash to each real eyelash to create a beautiful, natural, gentle eyelash. This eyelash pattern is also known as One by one eyelash extension method.
This is a traditional method of eyelash extensions and is still loved by women, chosen by the naturalness that it brings, and at the same time, this type of eyelash extension does not cause heavy, bulky right from the first eyelash extension.
2. Volume Eyelash Extensions (Black Rose)
The second basic model is the volume mi model and when returning to Vietnam, this method is called the Black Rose eyelash extension. This is the method of joining many false eyelashes to each real eyelash. The number of false eyelashes connected can be from 2 to 8 eyelashes and corresponding to each eyelash is called volume 2D, 3D, ...
Many of you will feel afraid when connecting many false eyelashes on top of one real eyelash, which can make the eyelashes heavy, droopy or tight, then rest assured, this method uses "extremely thin" false eyelashes. with a thickness of only 1 mm or less.
Footnotes: Secrets to Know in the Technique of Eyelash Extensions
With the volume eyelash extension model, you will own a thick, long and extremely attractive eyelashes, the eyes also look bolder, sharper and look much bigger.
The current popular volume eyelash extensions that you can refer to are:
Option 1: Connect each strand. With this method, you will connect the 1st false eyelash, then the 2nd, 3rd, ... until the last false eyelash. This is a way that requires great meticulousness from the technician and takes a lot of time to complete.
Option 2: Connect multiple lashes at the same time. This way brings convenience, much faster. That is why this is the most widely used connection method. With this method of eyelash extension, you can use the commercially available volume mi fans or make your own volume fan by hand with the appropriate amount.
3. Katun Eyelash Extensions
This is a type of eyelash extension that is very popular with young people today, because of the personality and vividness it brings. Unlike traditional eyelash extensions when the lengths of false eyelashes are equal, Katun eyelash extensions are a combination of alternating short false eyelashes to help the eyelashes look much more prominent.
Katun eyelash extensions also have 2 variations from 2 basic eyelash extensions, which are:
Katun Classic Eyelash Extensions: This style uses the classic eyelash extension method, but uses false eyelashes of different lengths, during the joining process, please arrange the position of the eyelashes reasonably, suitable for the eye shape as well as the mold. customer's face. The resulting effect will make you satisfied.
Katun Volume Eyelash Extensions: This style is again modified from the Volume eyelash extension method when connecting eyelashes of different lengths to real eyelashes. With this type of eyelash extension, although combining many false eyelashes on the same real eyelash, it does not feel "bulky" for the eyes.
For girls who love personality and charm, this is the right choice.
With basic eyelash extension methods, the technician can create many different types of eyelash extensions suitable for each eye shape, both overcoming the shortcomings of those eyes, and making the eyes look big and round. more lively while helping to create a unique personality for each customer.
Footnotes: How Long Can Eyelash Extensions Fall Out
Some eyelash extensions to overcome the shortcomings of some common eye shapes that you can refer to such as:
Underlined/droopy eyelids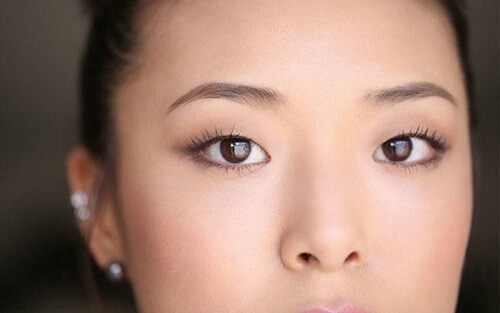 With this eye shape, you should perform eyelash extensions pressing on the center of the eyes, which means that the longest false eyelashes will be in the middle area, then gradually reduce the length to the sides. The eyelashes at this time need to have a certain curvature to help the eyes open wider and rounder. At the same time, overcome the disadvantages of lined eyelids / drooping eyelids.
Single eyelid shape
To make the eyes look bigger, the technician should choose a type of eyelash extension with a length of false eyelashes that gradually lengthens towards the end of the eye, and at the same time, put a few longer false eyelashes to form 2 layers of eyelashes. This will make your eyes look bigger and more attractive.
Deep hollow eye shape
If the customer owns this eye shape, you should choose really long but moderately curved false eyelashes that will make the eyes look outstanding, making the eyes more vivid and attractive.
Mastering the basic methods of eyelash extensions will help you succeed in creating or implementing different types of eyelash extensions. Miss Tram Academy hopes to have provided you with necessary and useful information for your learning and career process.
See More About News – Share Other Miss Tram Academy:
Apprenticeship Beauty Salon Need a Diploma No
What To Do When Receiving Guests With Melasma